Taylor Swift's latest album, Midnights, delights fanbase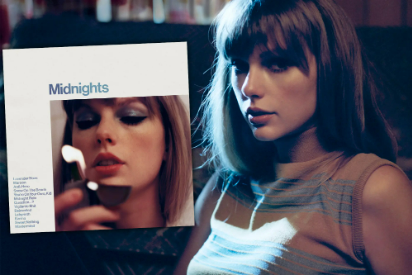 The 11-time Grammy Award winner and one of the most anticipated artists has once again given her fans a night to remember.
On August 28th, Taylor Swift made her appearance at the MTV award ceremony taking home a Video of the Year Award. Accepting her award, Swift thanked her team and fans; however, as the speech was coming to an end, Swift announced the release of her new album, Midnights, which came out on October 21, breaking records worldwide.
One month before the release of Midnights, Swift dropped a twist ball and announced the name of her first single through a video on TikTok. After the first announcement, it became clear to fans that they were now getting the names of each individual track, showcasing what Midnights might actually be about. Not only that, but Swift also gave fans a sneak peak of her release schedule where fans were quick to notice a surprise that came with the album: A "3am Edition" with seven extra songs. 
Nearly one week after releasing her anticipated album, Swift broke records in not only having her album "become 1st to take all 10 top slots on the Billboard chart, but she also became the first artist in history to claim the top 10 slots of the Billboard Hot 100 chart," according to Houston television station ABC13.
"Lavender Haze," the opening track on Midnights, sparked attention, reaching number two on Spotify charts around the world. Swift later went on Instagram explaining to her fans the real meaning behind the single, posting that the public always seems to have opinions on her personal life and "for six years we've had to dodge weird rumors, tabloid stuff, and we just ignore it. So this song is about ignoring that stuff to protect the real stuff." 
"Lavender Haze" was not the only top hit though, with "Maroon" also coming as another favorite. Olympic Heights sophomore Aviana Solorzano stated, "As someone that has been listening to Taylor Swift for a long time, I loved how the album interpreted one of her past singles and the relationship each song has to her and her audience." Many fans relate to the song "Maroon" as it reflects the reality of being in a relationship and how perceptions involve growing up. 
With all the positive comments from fans, also came negative feedback. In Swift's music video for her song "Anti-Hero," a scene depicting Swift's struggles with her body image had to be removed after people claimed she was fat-shaming individuals and using it as a way to gain attention. Negative comments also surrounded Swift when her single with Lana Del Ray "'Snow on the Beach' came out to be more of a simple harmony than a true duet," stated Rolling Stone magazine.
Overall, Midnights has lived up to many Swift fans' expectations, earning a 4.6 out of 5 rating from Safari search engine users, with user reviews ranging from, "It is such a good album!!! It's unique, something she's never done before and it sounds so cool" and "i'll be honest, might be one of the best albums to date. Taylor never fails to impress."
Swift has always been known to give hints to her fans as to what may be next in her music career. In many of her music videos, TikTok, photos, and captions, Swift incorporates "Easter eggs," where fans are able to find clues that could possibly lead to future tours, albums, and music videos.
 On Midnights, Swift and her team placed a good number of Easter eggs throughout her songs. With all these hints, the biggest speculation that has been going through social media platforms is the release of Speak Now (Taylor's Version). 
Leave a Comment