Brian Pulaski returns to OH to take over football program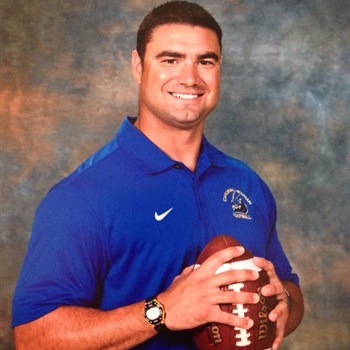 The Olympic Heights football program will begin yet another new era in 2023 with the hiring of familiar face Brian Pulaski as the next head football coach. Pulaski will be the Lions' fifth head coach since 2016, taking over for former coach Brandon Knight, who was let go after compiling a 5-15 record over two seasons, including a 1-9 record last season.
 Pulaski returns to the OH football program where he was an assistant coach from 2007 through 2010, coaching linebackers, defensive line, and wide receivers. He was also the Lions junior varsity head coach and defensive coordinator for the 2009 and 2010 seasons.
Since his previous stint at OH, Pulaski served as the head coach at Cardinal Newman, where he compiled a 10-9 record over the 2016 and 2017 seasons, and at Suncoast, where he posted a 3-7 record in the 2020 season. He led Cardinal Newman to the state playoffs in his first season at the helm, a quick and impressive turnaround of a team that had gone 1-9 in the previous season.  
Pulaski's familiarity with the staff and administration at OH was a big factor in his taking the job, and after starting his football coaching career at OH, he told The Torch he plans to "finish here as well."
In order to address what has been a somewhat anemic offense over the past few seasons, Pulaski told The Torch that he plans on installing a "ball-control, physical, disciplined style of consistently scoring offense that will lead to a winning football program." 
Planning to emphasize physicality in all facets of the game, Pulaski adds that the Lions will play "extremely physical, disciplined, and confident" football that will be "only for those willing to truly be champions off and on the field." 
To compensate for losing talented seniors such as defensive lineman Parker Poloskey, who will be playing for Army at West Point at the collegiate level, Pulaski talks of an emphasis on developing players from the ground up. "We will immediately develop sub-varsity programs that learn our every-down fundamental skills as they learn our basic defensive and offensive systems," Pulaski explains. "We will create depth, experience, and a winning culture for the future of our football program. It's a holistic approach to becoming champions. It's not the en-vogue quick fix mercenary way most teams use. Instead, it's a strong, consistent, and confident brotherhood that builds champions."
That brotherhood that Pulaski mentions is what he said will "speak for itself" in order to attract players to come to Olympic Heights and that playing for the Lions will be "an honor from here on out."
Pulaski declared that rather than an offensive or defensive-minded coach, he is a "victory-minded football coach"; a mindset, which, if the players buy into, will surely get the Lions roaring once again.
Leave a Comment