Olympic Heights basketball looks to close out season strong
Olympic Heights head varsity boys basketball coach Keith Mackrey, by his own admission, has a "unique team" this season. Speaking of his team, currently 9-10 on the season, Mackrey comments, "We have some young players with zero varsity experience to seniors with little varsity experience. So we will be in constant growth mode all season long."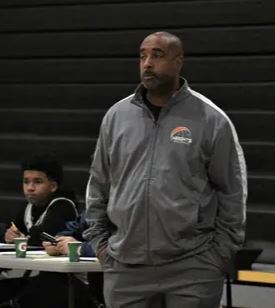 Mackrey's assessment seems on target as his squad has had its share of both strong wins and somewhat embarrassing losses. In his fifth season as the OH head coach, Mackrey has compiled an overall record of 56-55 over his tenure at the helm, according to maxpreps.com. He has been coaching in Palm Beach County for 20 years. Mackrey's goal is to finish out the final month of the season with a strong run in order to better position his team for postseason play.
 To that end, Mackrey is sticking to the blueprint that has seen him turn around a program that hadn't had a winning season before he took over since the 2007-08 season. "It is a different dynamic, basketball wise," Mackrey explained, "but we have trusted in our process and it has been working thus far." 
Mackery points to his senior team leaders 6'7" forward Gyterson Louissaint, 6'3" guard Davids Yonko, 6'2" guard Trent Sease, and 6'1" guard Cameron Kranitz as "the ones who are giving us that leadership needed, and they set the tone in games and practice." Mackrey also mentions 6"0" sophomore guard Jake Harbatkin as a player who "is really stepping up and making an impact." 
Louissaint is currently leading the team this season in points per game (15.9 average) and in field goal percentage (54%) while averaging 8.1 rebounds per game. Sease leads the team with 3.2 assists per game, while averaging 1.6 steals per game. 
With less than a month remaining in the regular season, Mackery's goal is "to prepare each day and get better each day. We want to be playing our best basketball going into the district tournament." Despite mentioning the seniors' team leadership, Mackrey points out that the team is actually led "by committee! Everyone plays a certain role and all those roles are what make us who we are. There is no individuality! One team! One family!" 
Mackery wants his team to maintain a high-energy level and he feels that the team's lack of experience has led to the players to be more open to learning how to play at a high level for an entire game. The season-closing month of games features some strong opponents, but the tough schedule was made by design to challenge the team. This means that, as coach Mackery explained, "every night we have to compete. But coming up, we have perennial power Wellington High School."
The OH basketball team has played its hearts out this season, and is hoping to end the season strong. The team is displaying a high level of energy that Mackrey feels will make his team that much better down the stretch.
The first step toward Mackrey's goal of posting a winning record in the last month of the season was taken in the right direction as the Lions beat Boca Raton 53-51 on Wednesday night. The Lions take on another cross-town rival when they travel to Spanish River tonight, Jan. 20, for a 7:30 p.m. tip off. A win there will secure a 5-0 season record against the other Boca Raton area schools of West Boca, Spanish River, and Boca Raton.
Leave a Comment