OH Theatre Dept. staging hit Broadway musical Mamma Mia!
Last year, the Olympic Heights Theatre department gave a smashing performance of the musical 9 to 5. This year, the musical theatre students are back at it with a new show that is sure to dazzle the audience. Drama Troupe 4992 will stage the musical Mamma Mia! which features popular, upbeat songs from the singing group ABBA. 
The musical first opened on London's West End in 1999, eventually making its way to Broadway in 2001 and ran through 2013. The film version of Mamma Mia! came out in 2008, starring Meryl Streep and Amanda Seyfried, and spawned a 2018 sequel Mamma Mia! Here We Go Again.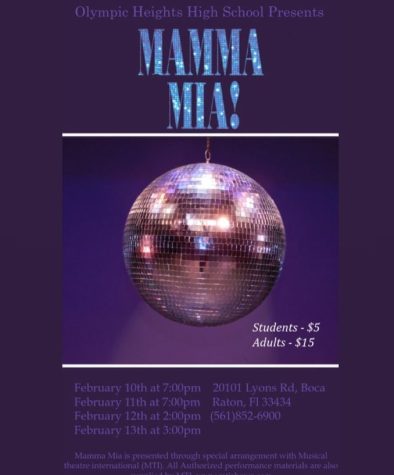 Mamma Mia! Is a jukebox musical about a young woman named Sophie Sheridan who is soon to be married and develops a plan to find her real father by inviting the three main romantic interests from her mother's past. The musical takes place on a beautiful Greek island and incorporates both modern and 1970s style influences through the songs and costumes. 
OH senior Shiloh Bass, who plays the role of Sophie, said that her favorite part about being cast in this musical is, "working with everyone and bringing the story to life." She adds, "I'm really proud of the work everyone's put in to make it the best that it can be." 
OH sophomore Ava Troiano, who plays Donna Sheridan, Sophie's mother, declares her favorite aspect of working on the musical is, "getting to know everyone and bonding with the cast." 
The crew behind this year's musical are just as hard working and excited for the show as the cast members. OH senior Lydia Barakat, the assistant stage manager for Mamma Mia!, says she is most excited for the audiences to see and hear the musical performance of the songs, such as her favorites "Dancing Queen" and "Gimme! Gimme! Gimmie!" 
The crew members for this musical have important roles such as assisting with choreography, makeup and costuming, sound, lighting, and sets. Crew members help to make sure everything looks, sounds, and operates smoothly and seamlessly on stage. 
OH Theatre Director Ms. Kimberly Coyle has a very positive outlook towards this musical and the work of her students, stating, "Despite being the underdog, our students work hard to accomplish their goals, and they do so by supporting one another and creating a bond that lasts a lifetime. The heart of our department does not lie on stage but rather in the spirit behind it. OH Theatre students push forward with positivity and solutions."
Coyle continues, "They build their sets, they construct and/or alter their costumes, among every other production aspect, and they will be better thespians, and more importantly, better people for it. These students are striving to bring our department back to where we were pre-pandemic and to say I am proud of them would be an understatement." 
The students have been dedicating countless hours of time, energy, and hard work into making the performance of Mamma Mia! spectacular. "I love challenging my performers, but my ultimate priority was for these thespians to enjoy live theatre again while flourishing along the way, and they have done just that," Coyle adds.
This musical is sure to be another extraordinary hit by the talented theatre department at Olympic Heights. Mamma Mia! Is set to be an unforgettable performance that audiences will not want to miss!   
Show times are: Fri., Feb. 10 and Sat., Feb. 11 at 7:00pm; Sun., Feb. 12 at 2:00pm; and Mon., Feb. 13 at 3:00pm. General Admission is $15; student tickets are $5. 
View Comments (2)