Olympic Heights competitive cheerleading completes best season in school history with third place finish at Nationals
Blood, sweat and plenty of tears were shed as the Olympic Heights competitive cheerleading team battled its way through the winter season to place third in the nation. The team had some of the best moments of their entire career this season and ended it with a bang. The level of teamwork it took the squad to finish their season as they did is a testament to the perseverance and persistence each team member possesses.
Unbeknownst to many, competitive cheerleading is a Florida High School Athletic Association (FHSAA) sanctioned sport. The essence of competitive cheerleading is to recognize a team's school spirit, strength and athleticism.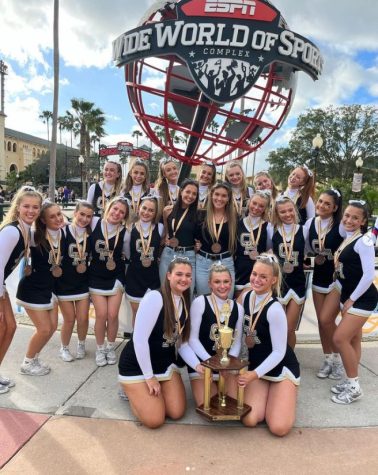 To train for competitions, the OH cheerleaders practiced consistently Monday, Tuesday and Wednesday. Additional practices were added as needed on Thursday, Saturday mornings, and other days off from school. This dedicated team of athletes were willing to put in the work and to fight for what they wanted. Their hard work eventually paid off. 
"The team this year trained like no other, pushed themselves like no other, and worked so well together no matter their differences. I have never seen anything like it.," senior Co-Captain Anna Terra-Nova, a four-year varsity cheerleader, commented. She went on to say how glad she was that her senior season culminated with such a great ending.
The cheer team started off strong in November at the Tampa Universal Cheerleaders Association (UCA) Regionals where they won first overall in their traditional routine, capturing the title of regional champs. This start was the result of Head Coach Nikki Spears adjusting the early-season training methodology.
"This year, the team trained harder than previous years," Spears explained. "We focused a lot on our technique and "safe cheerleading," which helped advance our skills."
 The routine performed that won at regionals was much simpler than the routine the team brought to nationals. In November, stunts were more technique-oriented and safer than what was brought to the stage at states and nationals. As the season progressed, Spears pushed her team to advance their skills to become more competitive.
The team had their hearts set on competing well and placing at the 2023 National High School Cheerleading Championship. Produced by UCA, the national event is the ultimate cheerleading competition for high school cheerleaders across the country. It took place over the Feb. 10 weekend at the ESPN Wide World of Sports Complex at Walt Disney World. According to Varsity Spirit, this year's event hosted 1,125 teams from 33 U.S. states. 
Arriving at the venue on Feb. 9, the cheer team was ready and extremely prepared to take on Nationals with their game day and traditional routines. Spears shared that this was her first time she choreographed and had a team compete a game day routine in her seven years of coaching competitive cheer at OH. Game day routines incorporate more of what fans would see cheerleaders perform on the sidelines of a football game than do traditional routines.  
"This was the first year we competed game day. It was a fun and competitive experience!, Spears commented. "We prefer the traditional style routine and will be focusing on traditional only next year!" Even though Spears and her team stepped out of their comfort zone with the game day routine, it paid off. 
On the second day of the competition, the team performed its traditional routine in the semi-finals where they placed high enough to make it through to the final round on Sunday — they were beyond grateful and elated. 
On Sunday, the last day of the event, the team did something that they never thought possible. The team placed third overall in their division, the best finish ever for an OH competitive cheer squad. In prior years, the OH cheer team has never made it past semi-final
The team has so much potential and has the capability to do great things next season. Assistant Varsity Coach Grace Molisse was a new addition to the team's staff this year. She was a valuable asset and shared many wonderful words about the cheerleaders.
"I have high expectations for the OH competitive team for this upcoming season," Molisse commented. "These 19 girls this past season have proven so much to Coach Nicki and I. The OH cheer team has so much potential and are capable of accomplishing so much more than what they have already accomplished." 
Molisse has full faith and confidence in this team she has just begun working with. Since the cheerleaders show such amazing faith and courage, the coaches are able to do the same in return. 
The Olympic Heights cheer program is already making preparations for next season. Weekly conditioning and training clinics are taking place this spring in preparations for tryouts in May. To learn more, join the 2023-24 Cheerleading Tryouts Google Classroom i77fn3b and attend the virtual information meeting on March 23. For more information, email Coach Spears at [email protected].
Leave a Comment