The Winners and Losers of the NBA Trading Deadline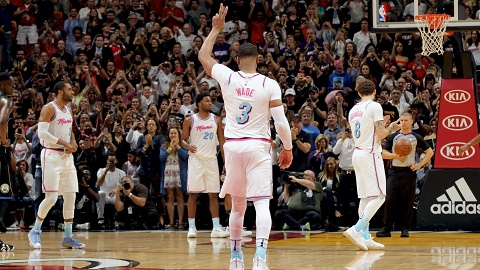 Hang on for a minute...we're trying to find some more stories you might like.
The NBA trade deadline of Feb. 8, slowly crept up without much activity of note other than the deal that sent Blake Griffin from the Los Angeles Clippers to the Detroit Pistons on Jan. 29. Then, on the trade deadline date itself, a flurry of trades took place that shook up the rosters of several teams, most notably that of the Cleveland Cavaliers. Torch Sports Editor Andrew Kaye offers his analysis of who the winners and losers were in the major deals that went down.
The Trades:
Miami Heat receive Dwyane Wade from the Cleveland Cavaliers / Cleveland receives a heavily protected future second round pick from Miami
Miami receives Luke Babbitt from the Atlanta Hawks / Atlanta receive Okaro White from Miami
The Los Angeles Lakers receive Isaiah Thomas, Channing Frye and a 2018 first round pick from the Cleveland / Cleveland receives Larry Nance Jr. and Jordan Clarkson from the Los Angeles Lakers
The Utah Jazz receive Jae Crowder and Derrick Rose from Cleveland / Cleveland receives George Hill from the Sacramento Kings and Rodney Hood from Utah / Sacramento receives Joe Johnson from Utah, Iman Shumpert and a 2020 second round pick (via Miami) from Clevland
 Winner: Dwyane Wade finally can go back home where he knows he belongs. He can control the ball and lead this team as his own. He can be himself again. Wade is a future Hall-of-Famer and he knew that he wanted to finish his helluva career with the team that he played his first 13 seasons with. He has won three titles with this franchise and looks to add to that number. Wade County is officially reopened for business!
 Winner: The Miami Heat just received their hero and savior for virtually nothing in return. Not to mention that they have also added a great three-point specialist (Dwyane Wade was shooting 44 percent from beyond the arc this season). The Heat have filled the void left by "Wade's replacement" in Dion Waiters. Although he has aged, Wade is still a great player and leader. He has tremendous basketball IQ along with good chemistry with several players on this Heat team including the Heat's best two players in all-star point guard Goran Dragić and starting center Hassan Whiteside. Luke Babbitt is a great guy to add to this roster as well. Babbitt was a great role player for the Heat last year and will play a similar role: a shooter that can space the floor without being a liability on the defensive side of the ball. These are two great additions to aid the Heat's attempt to make a playoff run.
Loser: The Atlanta Hawks are not necessarily losers at this year's deadline, but they could have at least gotten a second round pick for the sharpshooter. Instead, they got a player in Okaro White whom they waived within seconds of the acquisition. They also could not rid themselves of the contracts for Marco Bellineli (bought out), Dewayne Dedmon, Ersan Ilyasova, or Mike Muscala through trades. The Hawks could (and should) have been more aggressive and have gotten a couple of second rounders for these players.
 Loser: Okaro White has only played six games this season but was a great player for the Miami Heat in the past. He is now not on a team after being waived by the Atlanta Hawks, but may be re-signed by Heat. He is only on this side of the list because he is not guaranteed an NBA contract, but that may change before the end of the season.
Winner: The Cleveland Cavaliers may end up being on the loser's side of the list come free agency time, but, right now they have turned Kyrie Irving, Channing Frye, Iman Shumpert, Derrick Rose, and their own first round pick into Larry Nance Jr., Jordan Clarkson, George Hill, Rodney Hood, and Brooklyn's first round pick. That's not half-bad, although they probably could have gotten a better return for Isaiah Thomas. The only deal they just whiffed on was the deal to relieve themselves of Dwayne Wade. This revamped Cavaliers team is younger but looking to make some noise in this year's playoffs and hoping for a title with LeBron at the helm.
 Loser: LeBron James is already looking at houses in other cities. This Cleveland organization has failed to prove why James should stay when ridding themselves of his best friend in Wade and superstar point guard Isaiah Thomas for younger players. The Cavaliers decided not to move Brooklyn's 2018 first round pick as they are already looking at a LeBron-less future. LeBron does not have a supporting cast that is good enough to beat Golden State or Houston in a seven game series. Unless LeBron can turn into even more of a ultra-mega-superstar, he is not winning the NBA title this year.
 Loser: Isaiah Thomas has been traded to the eleventh-seed Lakers and might not even start. The Lakers only want Thomas because his contract is only six million dollars for the remainder of the year. The Lakers were able to open up the cap space to take on almost two max contracts and Thomas is most likely not in their plan. If Luke Walton decides to not start I.T., a buyout is expected to be agreed upon by both parties.
 Loser: Derrick Rose's season has been a complete disaster. He started the season well-enough, but he sustained injury after injury and then decided to take a leave of absence for a bit. Everyone had such high hopes for Rose this season coming off of a sixty game season and now playing with LeBron, but he has been a huge disappointment. He was merely a salary filler in a six-player-trade, and was then bought out by the Jazz. He now has the choice to go wherever he desires (which is expected to be Minnesota).
 Winner: The Los Angeles Lakers have made it very clear that they want to sign two "big-name" free agents. At the top of their list is none other than LeBron James and Paul George. Both of which are on underperforming teams. The Lakers have opened up enough of their available cap space by getting rid of Larry Nance Jr. and Jordan Clarkson to sign one player to a max deal (about $35 million per year) and one player to a contract offering just over $30 million per year. Isaiah Thomas will be a big name free agent next year who they could re-sign if they wish. He didn't seem to be a great fit with LeBron, but should LeBron sign elsewhere, he still averaged just under 30 points per game in Boston last season. If the Lakers fail to sign any of the top free agents, they could still wait for the 2019 free agency class headlined by the San Antonio Spurs' SF Kawhi Leonard and the Golden State Warriors' SG Klay Thompson.
Winner: Jae Crowder in Cleveland was pretty much a disaster. After averaging about 14 points along with eight rebounds per game last season in Boston, he is now averaging below nine points and about three rebounds per game. Additionally, his field goal percentage dropped about five-and-one-half percent even though his shot attempts dropped three shots per game. He just needs a change of scenery to try and salvage what's left of this season and to continue his numbers from Boston in Utah or on another team in the future. Crowder has been granted the opportunity to start this process for the second half of the season.
 Winner: George Hill was supposed to make the Kings a competitive team. Instead the Kings have been siting in fourteenth-place for quite sometime and are fighting for the number one pick in the 2018 draft. Hill is a great defensive minded player that can also score and make plays on the offensive end. He should be a great fit for this Cleveland team that has shown an aversion to playing defense this season.
 Winner: Rodney Hood is a restricted free agent that was planning on leaving the Utah Jazz for his big payday, but that may change now. Hood is joining the revamped Cleveland Cavaliers featuring LeBron James, an injured Kevin Love, Jordan Clarkson, Larry Nance Jr., and George Hill. That's a pretty good group to play with. Hood is a great scorer and solid defender to start at shooting guard next to LeBron and should be able to help this Cleveland team win games.
 Winner: Joe Johnson is in a great situation right now. He is a member of the Kings but will soon be bought out. He is still a great isolation scorer, has a high basketball IQ, and can be a great veteran leader to this championship caliber team in.
 Loser:The  Sacramento Kings have lost George Hill in exchange for Joe Johnson (bought out), Iman Shumpert, and the Miami Heat's 2020 second round pick. Shumpert's contract is on the upside of $11 million for this season and the next. The Kings did not sell Hill for his true value.
To Be Determined: The Utah Jazz could end up winners or losers in this deal based on how Jae Crowder improves this team since Derrick Rose was bought out. Crowder was an exceptional two-way player for Boston but played what may have been his worst basketball in Cleveland.
 The Trade:
The Detroit Pistons receive Jameer Nelson and a 2020 second round draft pick from the Chicago Bulls / Chicago receives Willie Reed and a 2020 second round draft pick from Detroit
 Winner: Jameer Nelson is way out of his prime. He is 35 years old and hasn't average double digit points since 2014. He had no business being on a rebuilding Bulls' bench. He is now on a new Pistons team which  features Blake Griffin and Andre Drummond and could very well be a decent third string point guard on this team. He may be the backup right away, though, as Reggie Jackson is still injured, but he will be a great veteran to have on this Detroit squad.
 The Trade:
The New York Knicks receive Emanuel Mudiay and a 2018 second round draft pick (via the Portland Trail Blazers) from the Denver Nuggets / Denver receives Devin Harris from the Dallas Mavericks and a 2018 second round draft pick (via the Los Angeles Clippers) from New York / Dallas receives Doug McDermott from New York
 Winner: Emanuel Mudiay just hasn't been a good fit for the Denver Nuggets. The Nuggets already have their starting backcourt in Jamal Murray and Gary Harris meaning that they don't have the space for the former seventh overall pick in the 2015 draft. New York is a change of scenery for Mudiay, but it is also a team void of a healthy all-star or a chance at the playoffs. Mudiay is a great player, hence why he was picked seventh overall in his draft class, but he just needs the opportunity to really prove his worth in this league. This is the perfect place to experiment.
Winner: The New York Knicks have just received what may be their new starting point guard in exchange for Doug McDermott and a second round pick. Emanuel Mudiay is a guy with a very high ceiling but also such a low floor. He hasn't been outstanding so far, but he has the potential to explode without an all-star teammate for the rest of this season. If he proves his worth in this league in a positive way, he may turn out to be a steal for New York.
Winner: The Dallas Mavericks aren't necessarily a huge winner of this year's trade deadline, but they were able to get a 26 year-old Doug McDermott in exchange for a 34-year old Devin Harris. That's a bargain!
Loser: The Denver Nuggets have given up Emanuel Mudiay in exchange for a 34-year old Devin Harris. It has been six years since Harris has averaged double-digit points. The Nuggets knew it was time to lose the former seventh overall pick in Mudiay, but for a guy way past his prime and to swap second rounders with the Knicks? This is just a terrible trade for the Nuggets.
The Trade:
The Phoenix Suns receive Elfrid Payton from the Orlando Magic / Orlando receives a 2018 second round draft pick (via Memphis) from Phoenix.
Winner: The Phoenix Suns just got themselves Devin Booker's partner in the backcourt. With T.J. Warren, Devin Booker, Tyler Ulis, and Marquese Chriss, the Suns have already started building a young core for the future and Elfrid Payton is a great addition in a position of need. Additionally, the Suns only had to give up a second round pick for their new starting point guard.
 The Trade:
The Los Angeles Clippers receive Tobias Harris, Avery Bradley, Boban Marjonovic, a 2018 first round draft pick and a 2019 second round draft pick from Detroit / Detroit receives Blake Griffin, Willie Reed and Brice Johnson from the Los Angeles Clippers
To Be Determined: The Los Angeles Clippers have traded away Blake Griffin in an attempt to restart and rebuild; however, they have re-signed Lou Williams, who is 31 years old, to a three-year deal and could not find a trade partner for DeAndre Jordan or newly acquired Avery Bradley. Jerry West was able to build the Warriors into arguably the best team ever, and he should be trusted running this Los Angeles organization.
 To Be Determined: The Detroit Pistons have been great so far with Blake Griffin, but history does repeat itself. The Clippers had a similar core with DeAndre Jordan, Chris Paul, and Griffin and never made it past the second round of the playoffs. The Pistons will not get too far in the playoffs without any major upgrades to the shooting guard and small forward positions. If the Pistons can find an answer at those positions, then they could be a great team competing for a title.
The Trade That Didn't Happen:
The Memphis Grizzlies failed to move Tyreke Evans
 Loser: The Memphis Grizzlies have a great player in Tyreke Evans who is having a career year, but they will lose him for nothing in free agency now. The Grizzlies had a great opportunity to start a much needed rebuild, but choose to hold on to this squad for the rest of this disappointing season. They are the twelfth-seed in the Western Conference and have no chance at a playoff push. This entire season has been a major disappointment for the Memphis franchise.
 Loser: Tyreke Evans is stuck on the Memphis Grizzlies who have no playoff intentions. His talent is being wasted on this team. Evans is having a career year at age 28, and the Grizzlies could have gotten at least a low-end first round pick in exchange for him. Evans will now have to wait until free agency to find his future squad.
 Overview:  Overall, the trade deadline failed to disappoint. The Cavaliers made three separate trades in their attempt to improve their roster. Many game changing players were moved including Blake Griffin, Isaiah Thomas, Dwyane Wade, Joe Johnson, Rodney Hood, and Tobias Harris. It will be interesting to see how these trades shake up the league, especially as the playoff push gets underway.