OH tennis teams hitting stride as district tourney nears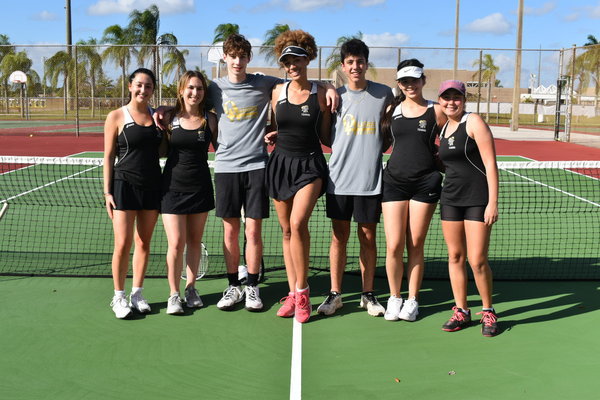 The Olympic Heights boys and girls tennis teams have been on a roll as of late as they near the end of their regular seasons and the district tournaments draw near. 
The girls team currently holds a 9-2 record, having won their last five of their last six matches by scores of 7-0 with the other match being a 6-1 win.The boys team's record stands at 7-5, having won four of their last five matches by 7-0 scores.
Both teams have had to play without key players this season. Ariana Fromm, the girls number one player from last year, had not played this season due to injury until the most recent match against Lake Worth on March 29. On the boys side, number one player Ryder Gang missed a stretch of four matches.Getting both players as the district tournament approaches gives both squads both an athletic and confidence boost.
To advance through the post season, both teams will have to overcome tough district tournament competition from Spanish River and West Boca. The girls team's only two losses are against those two cross-town rivals by scores of 7-0 and 6-1 respectively. The boys team lost to both of those teams 7-0. Still, both teams have been playing well over the past few weeks and building confidence toward getting revenge for those losses in the postseason. 
Head tennis coach Jim Cappello commenting on the girls' postseason chances said, "We are expecting [Fromm], current #1 Simona Vapsa, and Makayla Lewis to hopefully go far in the district tournament."
On the boys side, Cappello commented, "#1 Ryder Gang, #3 Ryan Sacher have really stepped up, and #5 Spenser Teman is 6-1 in the season. We have a tough district, but hopefully the boys will take one match at a time and show everyone what we can do.
Commenting on how he can improve on his play. Sacher said that he has to stop getting into his head while playing. His brother Mason, the boys' #2 player, responded in a similar manner by noting that he makes too many mistakes by thinking too much, so he needs to think less during the match in order to increase his chances of winning.
Assistant coach Samantha Moore believes that both the boys and girls teams are "taking good strides getting ready for the tough matches to come in districts." Teman and Logan Zukerman, both sophomore first year players,both agree with Moore, with Teman commenting that the teams are getting better as a whole. Zukerman sees that the team can still improve, but he still holds the thought that OH can compete with many of the tennis teams in the district. 
The teams have three remaining matches in the regular season, facing off against Atlantic today, FAU High on April 5, and Santaluces on April 7. The district tournament will begin on April 11.
Leave a Comment