OH SPORTS WRAP: Boys weightlifting win state title; two Special Olympians medal; athletic squads tops in academics
The Olympic Heights boys wrestling team won the Class 3A State Championship in the snatch event on April 21. The OH weightlifters edged out Navarre High School by one point for the title, 21-20, to win the school's first weightlifting state title. 
"The kids were ecstatic and it's thrilling for them," OH weightlifting coach Micah Stucky told the Sun-Sentinel. "We were excited to train and compete in the snatch since the beginning of the year. We had a lot of boys who have worked hard since freshman year and to win our first state title as a team is pretty special." 
OH weightlifting placing in their respective weight divisions were: senior Tyler Park, second place in the 119-pound weight class; senior Michael Molle, second place in the 169-pound weight class; sophomore Vasyl Latyk, third place in the 129-pound weight class; senior Isaiah Pierre; third place in the 183-pound weight class; and junior Sean Lutin, fourth place in the 139-pound weight class.
SPECIAL OLYMPIANS MEDAL AT STATE COMPETITION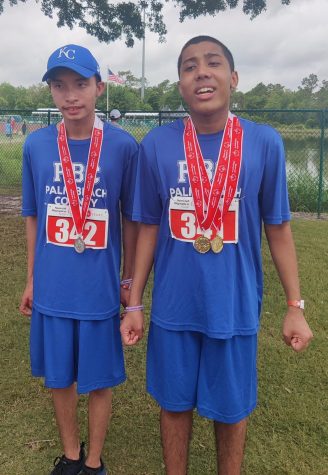 Olympic Heights students Andrew Romero and Jacob Mendonca represented the school over the past weekend at the Special Olympics State Games in Orlando. Mendonca earned gold medals and Romero took home silver in both their running and throwing events. They did an amazing job representing the Palm Beach delegation and Olympic Heights," OH Special Olympics sponsor Ms. Robin Williams commented.  
BRAINIAC ATHLETES AT OH
The Olympic Heights Athletics teams posted the highest combined overall grade point average with a in Palm Beach County and the fourth highest in the state for Class 6A schools with a 3.480 GPA. All 29 OH teams posted GPAs higher than 3.00. 
The boys bowling and football teams posted the highest GPAs in the state in their sports, 3.882 and 3.289 respectively. Four OH teams finished second in the state in their respective sports: boys tennis (3.906), girls tennis (3.859), boys golf (3.846), and girls bowling (3.841). Three OH teams posted the third highest GPAs in their respective sports: girls soccer (3.823), boys soccer (3.451), and wrestling (3.350). The OH flag football team finished with the fourth highest GPA in its sport with a 3.727 GPA.
The overall breakdown is as follows: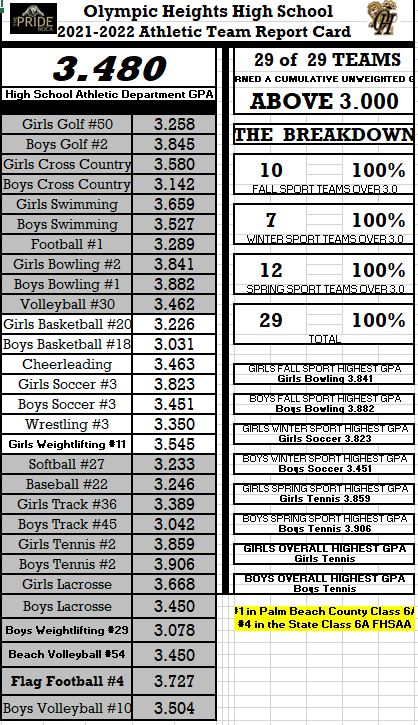 Leave a Comment