SPORTS OPINION: Deshaun Watson and Calvin Ridley cases shine light on NFL's glaringly inconsistent disciplinary actions
While high-paid professional football players getting in trouble is a problem in and of itself, the NFL's way of handling these issues is also problematic because the league is wildly inconsistent at disciplining its rule violators. It's not a good look for a league that, at least publicly, prides itself on its morality. 
That's not to say the NFL as an institution is immoral, but its recent disciplinary actions are questionable, to say the least.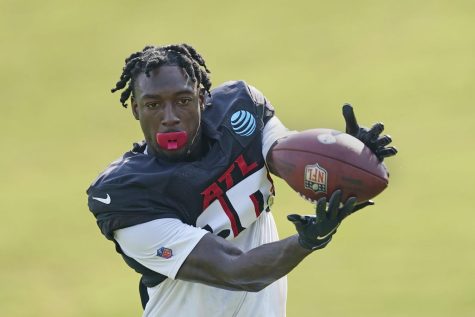 Let's start with Atlanta Falcons wide receiver Calvin Ridley, who was handed an indefinite suspension for violating the NFL's gambling policy. Ridley got caught in 2021 after using a Florida sportsbook to place his bets on his team to win games while he was away from the team with an injury. Since Ridley was not in Florida when he placed the bets, the geographical violation triggered an investigation from the sportsbook, which then notified a monitoring company partnered with the NFL called Genius Sports with their findings. Genius Sports passed the information along to the league, leading to Ridley's suspension. 
Since he did nothing illegal by United States law, he was never charged with a crime, but it makes sense that a sports league would not take such a situation lightly, as it could call into question the integrity of the game. However, Ridley's punishment, in comparison to the recently concluded Deshaun Watson scandal, feels like the equivalent of receiving a life sentence for filing a late tax return.
After finishing 4-12 in 2020, quarterback Deshaun Watson requested a trade from the Houston Texans. Being one of the league's premier quarterbacks, it's hard to blame him for feeling frustrated that the rest of his team and organization consistently came up short. Then, In March 2021, the first of many civil lawsuits was filed against Watson, alleging sexual assault during a massage. Less than a month later, the number of lawsuits claiming similar accusations was up to 22. 
Fast forward to the 2021 NFL season, Watson chose not to play for the Texans, still hoping he would get traded despite the allegations against him. Rumors floated around the league that the Texans were in talks with the Carolina Panthers, the New York Jets, and even the Miami Dolphins. But since no one seemed to have any clue what was happening with these lawsuits, no trade was made before the league's trade deadline.
The NFL, of course, investigated the situation and found next to nothing in terms of evidence to incriminate Watson, and about a year after the first lawsuit was filed, a grand jury cleared Watson of any criminal wrongdoing. This event reignited the "Watson sweepstakes," which the Cleveland Browns, in world-shocking fashion, would go on to win. 
The Browns then rewarded Watson with a contract extension that included $230 million of fully guaranteed cold, hard cash. Even though he was cleared of criminal charges by a grand jury, the lawsuits didn't just go away, and the NFL felt it necessary to reprimand him. The NFL and the players' union, the NFLPA, came to an agreement that a third party was necessary, and that the third party was none other than U.S. District Court Judge Sue L. Robinson, who has been on the wrong side of a few controversial cases throughout her career. 
On May 24, 2022, HBO's Real Sports with Bryant Gumbel aired an episode involving a deep dive into the Watson scandal, which resulted in two more women coming forward bringing Watson's total lawsuit count to 24. 
On August 1, 2022, Robinson ruled that Watson should be suspended for six games and can only receive massage therapy from therapists who operate within the Cleveland Browns organization. Two days later, the NFL appealed the decision, hoping for a longer suspension and a monetary fine, and they would get it. On August 18, 2022, the NFL and NFLPA settled on an 11-game suspension with a $5 million fine. 
That punishment appears to be a slap on the wrist compared to Ridley's, and the violations are incomparable. Ridley can't play this entire season because he placed some bets on his own team when he could have no influence on the outcome of the game, but Watson, who may or may not have sexually assaulted 24 women, can?
These are just two examples of disciplinary sentences given by the league this off-season, and there are plenty others, but the fact remains the same: the NFL's punishment of its employees who run afoul of the law and common decency is wildly inconsistent, and it needs to get its act together. The league should use this year as an example, learn from it, and improve its policies for future reference to discipline its players and executives fairly and consistently.
Leave a Comment