A pandemic-spurred openness regarding mental health leads to a better understanding and improved coping skills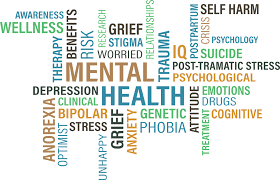 There has been an ever-increasing dialogue about mental health among Americans on social media in recent years, especially given the implications that the COVID-19 pandemic has had on the well-being of the collective since 2020. This conversation has also gone mainstream, with public figures opening up about their mental health struggles and groups advocating for legislation to improve mental health resources for Americans.
This widespread openness to the conversation of mental health can be attributed, at least in part, to the negative effects of the COVID-19 pandemic on global welfare. The prevalence of anxiety and depression around the world increased by 25 percent just in the first year of the pandemic, according to a scientific brief by the World Health Organization.
The brief reported that this massive increase is the result of constraints related to social isolation, including those "on people's ability to work, seek support from loved ones and engage in their communities." Young people were hit the hardest by this development as well, with the youth population having a disproportionately large risk of suicide and self-harm.
The fact that the entire world was impacted by the COVID-19 pandemic and its resulting lockdown made it a collective issue. As a result, the rise in mental illness prevalence was also collective. Young people became comfortable sharing their struggles on social media knowing that many other users could understand what they were experiencing.
While social media can negatively impact one's mental health, such as exposing women and girls to unrealistic beauty standards and creating dangerous spaces for cyberbullying and hate speech, it has also brought a source of positivity and community during the COVID-19 pandemic. This led to a more open community for mental health discussion online.
Even celebrities and public figures began sharing their struggles with mental health and illness. America's Got Talent judge Howie Mandel has long been open about his Obsessive Compulsive Disorder (OCD), Attention Deficit/Hyperactivity Disorder (ADHD), and depression. Comedian Taylor Tomlinson candidly discussed her diagnosis of bipolar disorder in her stand-up special Look At You, which was released in March 2022. In his memoir Beyond the Wand: The Magic and Mayhem of Growing Up a Wizard, which was released this past October, Harry Potter star Tom Felton discussed his struggles with substance abuse.
Many students at Olympic Heights see the benefits of celebrities opening up more with their audiences. Senior Nicole Greenberg noted that this vulnerability "allows people to feel like they aren't alone because someone with a high status is struggling with the same things as everyone else."
The acceptance of mental health, a once taboo topic whose utterance could have resulted in a witch-hunt centuries ago, has led to more calls for there to be more resources and information available to people, particularly young people, regarding mental health. 
Students at OH and in the School District of Palm Beach County have experienced the effects of this, most evidently through the implementation of "Mental Health Mondays," on which students would be guided through online lessons on different topics. Such lessons discuss peer pressure, substance abuse, and mental illnesses such as anxiety and depression.
"I think that [the school district] has good intentions, but the program is not really helpful," said senior Axel Diaz Bringuez. This is the opinion of many students at OH who question the effectiveness of the program. 
Greenberg agrees that the initiative is not helpful, noting that "nobody takes it seriously, and reading ways to help others doesn't actually make people take the action of helping others."
Beyond in-school education initiatives about mental health, legislators at the national level are working to pass legislation that provides help to those struggling with their mental health and works to protect others as well.
One piece of legislation that would do this is the Mental Health Access and Gun Violence Prevention Act, which was introduced in January by Rep. Sheila Jackson Lee (D-TX). This bill aims to not only increase access to treatment and resources for mental health but also would require mental health information to be reported to the National Instant Criminal Background Check system to be factored into background checks for potential firearm owners.
Another pending bill is the Vet CENTERS for Mental Health Act, which was introduced in February by sponsor Rep. Mikir Sherrill (D-NJ). This act would work to improve mental health care access for veterans by increasing the number of Vet Centers and clinics available in each state.
In the last year, the Biden-Harris administration has pledged and worked on carrying out its pledge to address and solve the youth mental health crisis, which rose in tandem with the global mental health crisis that came with the pandemic. In a fact sheet the White House released on July 29, 2022, the administration announced two actions that it plans to take.
The first action is utilizing the first $300 million secured through a 2022 bipartisan omnibus agreement to increase access to mental health services in school. This is a part of the Bipartisan Safer Communities Act, which "will invest $1 billion over the next five years in mental health supports in our schools," stated the White House fact sheet.
The second action is encouraging governors to invest more in school-based mental health services, communicated to the states in a letter that was sent to governors across the country. The letter also includes ways in which the states "can leverage Medicaid funding to deliver critical mental health care services to more students."
This past February, Florida Gov. Ron DeSantis announced his Framework for Freedom Budget, including a suggested allocation of over $531 million in funding for an array of behavioral healthcare services. These services include prevention services, medication-assisted treatments, and recovery support. The governor suggested these allocations primarily to work towards reducing overdoses, hospitalizations, unemployment, and homelessness due to addiction, but these uses are also working to increase and improve mental health resources as well.
With the increase in open and candid discussions of mental health on social media going mainstream, its leak into the political sphere has proved beneficial in that government leaders are taking action. They recognize the priority that mental health has become for many Americans, and many of the actions taken by Congress and the Biden-Harris administration regarding increasing mental health resources have proven to be effective.
Leave a Comment