Who knew when Ariana Grande said, "Break up with your boyfriend, 'cause I'm bored," she meant it literally. Following Ariana Grande's divorce from her husband of two years, a great deal of information came out and revealed the dark-side of Ariana Grande.
Let's start from the beginning, Ariana Grande met her now ex-husband Dalton Gomez in August 2020 when she hired him as her real estate agent. Grande said she "saw something different in Dalton that [she has] never seen before in another guy." She also added, "He is the guy [she's] been looking for." The couple dated for nine months before getting married on May 15, 2021. Their relationship was perceived as perfect, so where did it fall apart? In December of 2022, Ariana Grande started filming her role as Glinda 'the Good Witch' in the film Wicked, which is being filmed in Elstree, England. It was rumored that Dalton would be spotted at nightclubs following Ariana's absence, which started many cheating rumors. It's safe to say that distance played a huge role in the divorce. The long waves of absence and distance created damage to Ariana and Dalton's relationship. 
Ethan Slater is not only Ariana's good friend and coworker but also her affair interest. The two met in December of 2022 at the Wicked set where Slater plays Boq. In the film, Slater's character has a crush on Ariana's. How ironic! The two became really close during the filming, but clearly, a little too close. Slater was married for four years and had an eleven-month baby at the time of the affair. Slater's ex-wife, Lilly Jay, told media that Ariana Grande hung out with the family in the weeks leading up to the news of their long affair and that Grande is not a  "girls girl." Jay is distraught about the news of the affair since she would never have expected it and because of their newborn baby boy. On the other hand, singer and actress Rikki Valentina could've seen this coming from a mile away.
Rikki Valentina, after the outbreak of the affair hit the media, took to TikTok to share her similar experience with Ariana Grande. In 2009, Valentina was dating an actor named Christian Fortune who recently booked a small role on the show Victorious, which starred Ariana Grande. When he started filming, Ariana kept texting him, and Rikki "thought nothing of it." Following their breakup, Valentina went onto his Facebook messages to see what was really going on and found messages between him and Ariana making plans to meet up behind her back, them sneaking around on the Victorious set, and them "getting together" in her dressing room (while they we're still together). Valentina decided to reach out to Ariana to tell her that she was dating him at the time, sending a thoughtful message essentially saying that she was dating Christian at the time they were "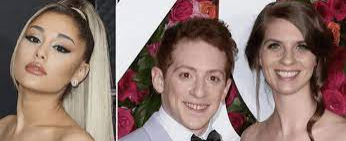 getting with." Valentina was to stick with her belief in the "girl code" and let Ariana know that she had her back. Ariana's initial response to the message was to block Valentina. Bailey Gans, a sophomore at Olympic Heights, feels, "I think she is a home-wrecker and she should not have any platform at this point because what she did is not cool."
We never know for sure what's true and what's not, but these receipts are heavily backfiring on Ariana's career, fanbase, marriage, and her as an individual. Meanwhile, Olympic Heights sophomore Kacper Babinski makes a very moral point: "Personally I believe there are always two sides to every story and she hasn't made a public statement announcing what really went down. We only have one side of the story." We are still waiting for Ariana's truth, but the evidence is backed up against her for now.