OH Team Wins State Championship in Chinese Culture Jeopardy Game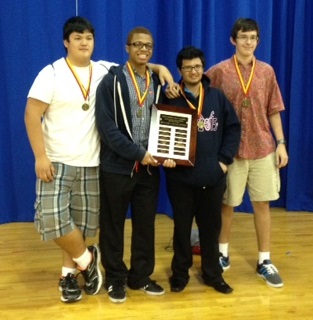 Hang on for a minute...we're trying to find some more stories you might like.
Olympic Heights students from Ms. Yinjie Qian's Chinese classes put in an outstanding performance at the State Chinese Competition over the weekend of Feb. 26. The team of Benjamin Aviv, Alexander Glotov, Jarrett Lyn, and Tyson Thorpe competed in the Chinese Culture Jeopardy Game, winning the state championship, beating all the elite private school teams.
Other Chinese students, 18 in all, also participated in individual contests in reading, writing, and speaking categories. While the results for those contests are still being tabulated, Qian says, "I am confident they all did an excellent job."