New Year's Resolution Fail? You're Not Alone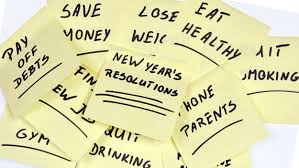 Hang on for a minute...we're trying to find some more stories you might like.
Each year, millions of Americans wait until the stroke of midnight on December 31 to make significant improvements to their lives. In this very second, people decide to create a vital goal or resolution that they plan to maintain throughout the rest of the year or for eternity. But do all individuals actually follow through with them?
Commemorating the new year is surprisingly not a modern concept; the idea stretches back to the ancient civilizations. The earliest recorded festivities in honor of a new year's arrival date back some 4,000 years to ancient Babylon. The practice of making resolutions for the new year is thought to have first caught on among the ancient Babylonians, who made promises to earn the favor of the gods and start the year off on the right foot.
For many people, composing resolutions provides them with a way to improve their lifestyles and become better persons. Olympic Heights sophomore Samantha Russell made some resolutions this year to improve her performance in color-guard. She says, "One of my New Year's resolutions was to get a double on rifle and a 45 on flag." She gratefully completed one of those goals but not the other.
Numerous students like Samantha establish aspirations for themselves every year to expand their horizons and learn something new; however, not all succeed in their ambitions. For example, Samantha also admits, "I wanted to do a 30-day plank challenge, but I gave up on the third day." Her experience illustrates the disheartening fact that most people do not follow through with their resolutions. The research firm Statistic Brain reports that only 9.2 percent of Americans felt that they were successful in achieving their resolutions in the past year. Additionally, a reported 27.4 percent of people typically abandon their resolutions within a week.
Resolutions may fail because people may not be ready for change, or their goals may be too lofty or hard to measure. Self-improvement is hard to achieve when most people don't possess the will power to accomplish their goals. Evidently, Timothy Pychyl, a professor of psychology at Carleton University in Canada states that resolutions are a form of "cultural procrastination," an effort to reinvent oneself. Individuals make resolutions as a way of motivating themselves, Pychal says. He argues that people aren't ready to modify their habits, particularly unhealthy habits, and that accounts for the high failure rate. Another reason, suggests Dr. Avya Sharma of the Canadian Obsesity Network, is that people set unrealistic goals and impractical expectations in their resolutions.
Many teenagers develop resolutions to significantly improve their personalities. For instance, OH student Luca Ciua divulges, "I wish to become an extrovert rather than an introvert." So far, he has not reached his goal of becoming less shy, but he hopes to achieve it soon. Luca also believes that it is beneficial to make New Year's resolutions "because it makes you a better person both inside and out."
Similarly, an anonymous OH student made an important resolution pertaining to her potential future career. She declares, "I want to become a better dancer." This particular type of resolution is quite common, as many people desire advancements in their fitness and other skills. In fact, Tripsavvy and Statistic Brain both recorded "fit in fitness" in their top ten most popular New Year's resolutions lists.
On the other hand, other students at OH have been successful in keeping up with their resolutions. Student Madeline Chamorro decided to make a resolution this year to improve her school performance. "My New Year's Resolution is to do my homework earlier rather than later," she admits. Chamorro mentions that she has maintained her goal so far. She hopes that by following through with her resolution, she can become a better student by not procrastinating as much.
Not all Americans formulate resolutions for the New Year. Statistic Brain reports that in 2017 that only 41 percent of Americans make resolutions. Many people find that devising resolutions for themselves at the beginning of every year is impractical, and they prefer to make changes to their lives throughout the year instead. OH World History teacher Ms. Chelsea Baer supports their reasoning; she has not made any resolutions this year and usually does not. Baer explains, "I like the idea of reflecting on your choices and trying to find areas of your life in which to improve, but to me this is something people should think about all year long, not just on January first."
Likewise, OH Chemistry teacher Mrs. Susan Mallardi also never makes New Year's resolutions, and she has created a rule for herself to never do so. "I can only speak for myself, and I never have felt the need to make a New Year's resolution because when I feel the need to change, that's when I try to make that change," she explains. "I don't wait until the first day of the new year. I'd probably forget what change to make if I waited for the first of the year." Instead, Mrs. Mallardi marks her new year at the beginning of each school year, and that is when she resolves to make it her best year ever.
Both Mallardi and Baer seem to agree that improvements to one's life should be made throughout the year, not just starting on January 1. Ms. Baer's idea of changing your life whenever you feel like it seems to be a fitting optional way to incorporate goals into your year-long or life-long plan. She recalls, "I stumbled upon a quote once that said "Everyday you reinvent yourself. Everyday you're in motion. But you decide every day: forward or backward" and this struck a chord with me and I try to incorporate that into my own life."
Although most people don't make resolutions, they are still a vital component of life for many others. Whether or not the world follows them, they are still one of the most characteristic elements of the New Year. They have the ability to shape an individual's life around, providing a person with stability and hope when he or she needs it.