Olympic Heights' Will Cunningham Excelling on the Field, in the Weight Room, in the Classroom, and in Life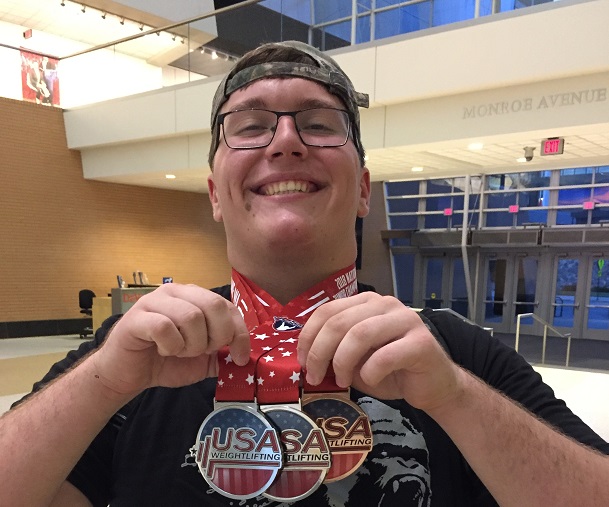 Will Cunningham, an Olympic Heights weightlifter and varsity football player, is steadily making a name for himself as one of the best student athletes in the county. In this his senior year, he plans to not only set records in his weightlifting and football career, but to leave behind his mark on the school that helped shape him into becoming one of the best four-year athletes in OH history. He hopes his success will serve as an inspiration to the young OH athletes.
Over the summer, Cunningham travelled to Grand Rapids, Michigan, where he competed in the USA Weightlifting National Youth Championship against numerous other top athletes from around the country. Cunningham finished in second making him the USA Weightlifting National Youth Champion runner-up. He managed to snatch three medals in three weightlifting categories: a bronze medal in Snatch, a silver in a Clean and Jerk, and a silver in 227 kilograms in the Super Heavyweight category.
His achievements in school competition placed him on the All-Conference First Team. Currently, Cunningham holds the OH record for squat weightlifting at 525 pounds, earning the right to have his name proudly displayed on the OH Weightlifting room record board.
Boys Weightlifting Coach Micah Stucky says that Cunningham as an athlete "is everything a coach would want. He's the type of kid who you ask to do something, and he gives you a hundred and ten percent every single time. He's one of those kids who wants to make the kids around him a lot better."
Cunningham has also been on the varsity football team since his freshman year, making him a four-year letterman. As with his weightlifting career, Cunningham also has received plenty of recognition for his play on the football field. Cunningham currently sits at #28 on ESPN 106.3 Radio's Top 63 players in Palm Beach County.
His skillful play as the center on the offensive line has captured the attention of several colleges. Cunningham has received scholarship offers from Division II schools such as Kentucky Wesleyan and Saint Anselm College. He also drawn interest from Ivy league schools such as Yale, Brown, and Columbia University. Cunningham plans to wait until the end of the season and closer to National Commitment Day to see what other schools offer before making his decision.
To get even consideration from the Ivy League schools means that Cunningham is not only excelling on the field and in the weight room, but also in the classroom. He has a 3.7 unweighted GPA and has posted a 1320 on the SAT.
Despite the impressive academic credentials, what Cunningham's teachers find most impressive about him is his willingness to help others. "He's a really good student; he does well…and he helps a lot of students in class, which is actually very helpful for me as a teacher," Cunningham's AP Calculus teacher Mr. Michael Drake comments. "I think that's actually his biggest trait, which is helping and assisting students whenever they need help; he's quick to do it."
"Will is the kind of young man dads WANT their girls to bring home: he is wicked smart and fun-loving," Olympians Advanced Placement Coordinator Ms. Kelly Lawrence comments when speaking of Cunningham's character. "But most of all, he is kind, and he possesses the inherent integrity and moral compass our society is so desperately lacking as of late."
With several post-high school options available to Cunningham, he remains grounded regarding his future. "In the future, regarding football, I just want to play in college and have fun while getting a free education at the same time," he explains. "Regarding weightlifting, I hope to win a medal at Junior Nationals within the next few years, and after my football career ends, I plan to go into weightlifting completely. I want to someday compete for Team USA at an international meet."