SMART Boards the Latest Technological Innovation to Be Utilized at Olympic Heights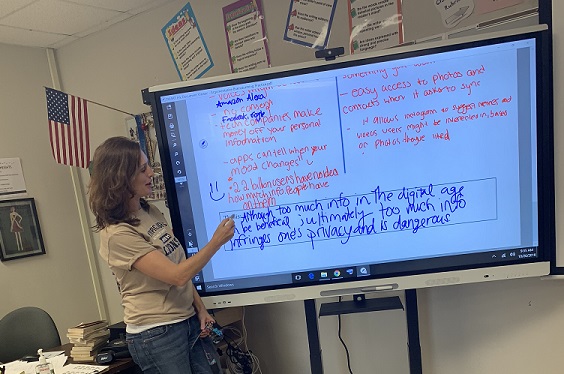 Hang on for a minute...we're trying to find some more stories you might like.
The future of Olympic Heights appears to be one that encapsulates new technologies designed to benefit student education. One such new technological innovation that is a recent addition at OH and other schools across the Palm Beach County School District is the SMART Board.
The SMART Board is an interactive 75'' inch flat panel touch screen that uses the internet to display animation, videos, PowerPoints, and other content selected by teachers to improve their lessons. Teachers can write directly into the application and highlight and annotate text, or use the flat panels to create an interactive quiz wherein students can answer questions from their laptops or Chromebooks. Paid for by the recently implemented penny sales tax increase9approved by voters in 2016) and each tagged by the sign "Your Penny At Work," the SMART Board transforms the classroom setting by incorporating highly advanced technology into a product similar in style to that of a traditional white board combined with a television screen.
Last year, 1,500 PBCSD Technology Trailblazers, or teachers who underwent a 13-hour special training to become Google Classroom certified, earned Google Chromebooks for all their students to use in class. Former OH Principal Dave Clark and other principals of both primary and secondary schools in the district had selected these "teacher leaders" of various subjects to learn effective methods for empowering classroom instruction with technology during a two-day summer institute.
The Trailblazers were back at it again this year, as they spent hours training on the SMART Boards both online and on-site. According to the PBCSD website, 11,000 of the touchscreen flat panels will be placed in classrooms over the next two years.
Some OH teachers have already found this new technology beneficial for instruction. Math teacher Mr. Michael Drake utilizes the SMART Board for displaying his entire lesson, and he is very happy that he has one. "It allows the lesson to flow very smoothly because everything I want to address is already good to go and ordered just how I want," Drake elaborates.
The panels are also easy to use, according to American History teacher Mr. Corey Musser, who admits that he taught himself "a good portion of the features provided" and was surprised by their simplicity. The boards are also very user friendly, allowing both teachers and students to easily learn how to utilize their capabilities. In Musser's classes, the learning experience with the panels includes a variety of applications such as going over quiz questions, annotating and teaching lessons, and watching historical videos to enhance his students' visual understanding of key concepts. He finds his panel "beneficial when transferring from task to task."
Despite their obvious advantages, some teachers have found it challenging at times to incorporate the SMART Boards into their classrooms. Biology and Forensics teacher Ms. Sarah Rew has been continuously trying to discover new methods of utilizing the panel in her science classes. However, she makes it clear that she finds it difficult to use them with the content that she has. Rew admits, "I do not believe at this point that there is enough material out there for secondary science teachers to truly get the most out of using it quite yet."
Rew also acknowledges that she had trouble accommodating the board into her room. While she enjoys how the panel is "user friendly," she describes that "the size of the science classrooms is not conducive to the size of the SMART Board." This is reasonable, considering how there is limited space to place a wide device like a SMART Board in a room with various lab equipment, sinks, and horizontal rows for desks that cover most of the area, which makes it hard to wheel the device back and forth.
AICE General Paper teacher Ms. Vanessa Koher agrees with Rew that the boards take up too much of the small classroom area. "It was super-obtrusive because I couldn't use it correctly and it took up a lot of space," Koher explains. Koher also reports that the SMART ink program on her panel constantly crashes as well.
Additionally, one student who wishes to remain anonymous has expressed another concern regarding the boards. He/she admits that while the boards provide cool applications like highlighting, "it is sometimes hard to see the board because it is too low compared to the higher and bigger projector screens."
Nevertheless, the boards are receiving positive praise from the majority of students and faculty. Drake articulates that the boards are more efficient and organized for working out math problems than a white board or mobi. Before he lectures, Drake can now have graphs and other images already prepared to display. "Imagine if every time I needed to graph a function, I had to first draw out the coordinate plane on the board," he humorously posits. "It used to be a colossal waste of time."
Junior Maria Ibrahim, one of Rew's Forensics students, agrees that the boards are a positive addition to the OH campus and recognizes their unique capabilities as she only receives this opportunistic experience in one of her classes. "In Forensics we have used them to view each other's cross-examination reports," she elaborates. "We have also applied some activities on the SMART Board to our lessons."
Koher also recognizes the various improvements that the panel has brought to her classroom. At first, Koher was wary about the SMART Boards because she experienced challenges adjusting the height, but now that it is fixed and functions properly, she loves it. She has witnessed an increased student participation because of the implementation of her flat screen panel, as "students want to go up to the SMART Board and use it." Therefore, the boards evidently help with student engagement. "Overall, I like having the SMART Board in my class," explains Koher.
This statement seems to echo throughout the OH campus, as both students and faculty warm up to the enhanced technology. Time will only tell what classrooms will look like in the upcoming years, but most likely, they will contain SMART Boards.