U.S. Governmental Agencies Cracking Down on Vaping As It Becomes a Teenage Epidemic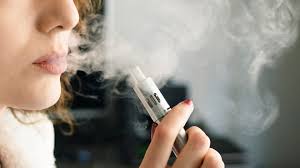 Hang on for a minute...we're trying to find some more stories you might like.
Walk into a bathroom at Olympic Heights or any other high school, and you might smell a fruity flavor. No, this sweet aroma is not from an air freshener. It's actually coming from vaping devices or e-cigarettes that have been sweeping the nation in recent years, especially among adolescents. According to the Centers For Disease Control and Prevention (CDC), 38 percent of high schoolers and 13 percent of middle schoolers have tried vaping. Studies have shown that vaping can cause damage to the lungs, brain, heart, and immune system. So, why are students at OH participating in such a deadly activity?
Numerous surveys have proven that many kids experiment with e-cigarettes, assuming vaping is harmless and a safer alternative to traditional cigarettes. "Vaping is like smoking without all of the consequences," claims an OH student wishing to remain anonymous who vapes regularly. He or she is aware of the negative effects, but incorrectly assumes that because some of the cancer-provoking chemicals used in cigarettes are not used in vapes that "they're healthier to a certain extent."  Unfortunately, they are not healthy in the slightest. At the bare minimum, the vapor can cause inflammations in the mouth and eventually lead to gum disease.
Other inflictions include reproductive harm to males, a lowering of the body's immunity to diseases, irritation to the throat, increased blood pressure, vomiting/nausea, and possible permanent damage to the lungs. Contrasting the views expressed by the anonymous student, the CDC reports that nicotine can harm adolescent brain development and that e-cigarette aerosol contains "cancer causing chemicals and tiny particles" which can enter deep inside the lungs. Some studies have also shown that teenagers who vape go on to smoke cigarettes later on in life, which effectively eliminates any of the medical benefits of vaping 0ver cigarette smoking in the first place. Many of the potential long-term health effects regarding these vaping devices, such as JUUL and dab pens, still remain unknown today beyond those listed conditions.
Despite the various consequences of consuming these mostly nicotine containing products, students all across the nation have become attracted to them. E-cigarettes are now the most commonly used tobacco product among youth, according to the CDC. E-cigarette manufacturers claim their products are not aimed at children, but Vince Willmore, a member of the non-profit group Campaign for Tobacco-Free Kids, is skeptical of their statements. "There are over 7,000 flavors of e-cigarettes on the market, including flavors like gummy bear [and] cotton candy," Willmore told CBS News. "Those are flavors that clearly appeal to kids."
Sadly, vaping has extended its contagious path across the U.S., even penetrating high schools such as OH. "There is a concern that some of our students are vaping," admits Assistant Principal Mr. D'Annunzio. However, he makes it clear that this is not just a problem for OH, but a problem for Palm Beach County, the state of Florida, and the country. D'Annunzio has witnessed a significant increase in the number of students caught vaping on campus in the last few years. "We understand that sometimes kids will vape in the bathroom," articulates D'Annunzio. Because the JUUL pens are so small, look like flash drives, and are easy to hide, students can do it as they walk through a crowded hallway without being seen, making it extremely difficult for teachers and administrators to catch them in the act. Students can vape secretly behind closed doors in the bathroom stalls together, hiding from the scorn of teachers and administration.
OH junior Madeline Chamarro does not vape, finding it both disgusting and equal to that of smoking; however, she has witnessed firsthand just how prevalent this trend is at school. Everyday during Lunch A she sees the same girls vaping in the bathrooms, doing it both inside the stalls and most noticeably by the sink. "It's so annoying when I am washing my hands and they blow the smoke on me," she explains.
So, why do students start vaping in the first place? While many teenagers vape in order to fit in socially, others do it simply out of curiosity. The previously mentioned anonymous OH student reveals, "I was just curious, so when it was offered for the first time I said, 'yeah.'" Once this student started vaping, however, he or she could not help but be persistently drawn to hit the JUUL. "I don't think it's cool nor was I peer pressured, I'm just addicted," the student says. This statement reveals the unfortunate and sick reality of the world in which we live in: children becoming addicted to toxic devices of disguised destruction that they are aware will harm them, but they still partake in their utilization.
The anonymous student's revelation is echoed by yet another OH student who similarly confesses, "I don't vape because it's cool, to me it's an alternative to other smoking habits." The student's parents are aware of his/her vaping and disapprove of it, but they allow their child to continue doing it because they think he or she can make his/her own decisions and assume the consequences for those actions. As a matter of fact, these two teens agree that vaping/juuling devices are healthier than regular cigarettes regarding their negative effects. Both students also have the same favorite flavor: mango pods, further demonstrating that these vaping products are marketed toward kids who prefer to vape pleasing candy and fruity flavors instead of smoking tobacco.
In response to this growing trend, the Florida Constitution Revision Commission (CRC) introduced an amendment that would ban vaping in public places and the workplace (and offshore oil and gas drilling in Florida waters) which was passed by Florida voters on November 6, 2018. In the same month, The Food and Drug Administration (FDA)  announced their attacks on the tobacco industry by reporting that they will start the process to ban menthol in cigarettes and limit sales of flavored e-cigarettes to youths both online and in stores. The FDA's recent measures are driven by new figures from the CDC showing a 78 percent increase in vaping by high school students, with 3.6 million high school and middle school students currently using e-cigarettes, which the FDA refers to as a teenage "epidemic."
Vaping is not taken lightly at OH. Faculty and staff will take the appropriate measures to ensure that students are punished for their actions. D'Annunzio describes the consequences for vaping: "There is a five day suspension along with drug, tobacco, and alcohol awareness classes that will hopefully deter students from doing it here."
D'Annunzio admits that he has personally caught a student vaping, as have the other administrators. This is the process: students are brought into the office, their belongings are searched, administration suspends them, and when they find out the students are in possession of a vape, they contact their parents. If the vape was drug-related in any way, it is turned over to the school police officer. The scary thing that students are unaware of is that if they are caught utilizing vapes that contain the THC oil, Cannabis oil, or any other derivatives of marijuana in highly concentrated amounts, they will not receive a misdemeanor but will "get a felony charge," as D'Annunzio enlightens. Nevertheless, a student found vaping on campus, no matter their age (even if they are above the legal age of 18), will receive the same consequences as a minor.
Hopefully, within the near future kids (and even adults) will come to realize that they are doing more harm than good by participating in this dangerous and troublesome activity. No smoke is worth a life.