Over 40 clubs and organizations at Olympic Heights give students plenty of opportunity to get involved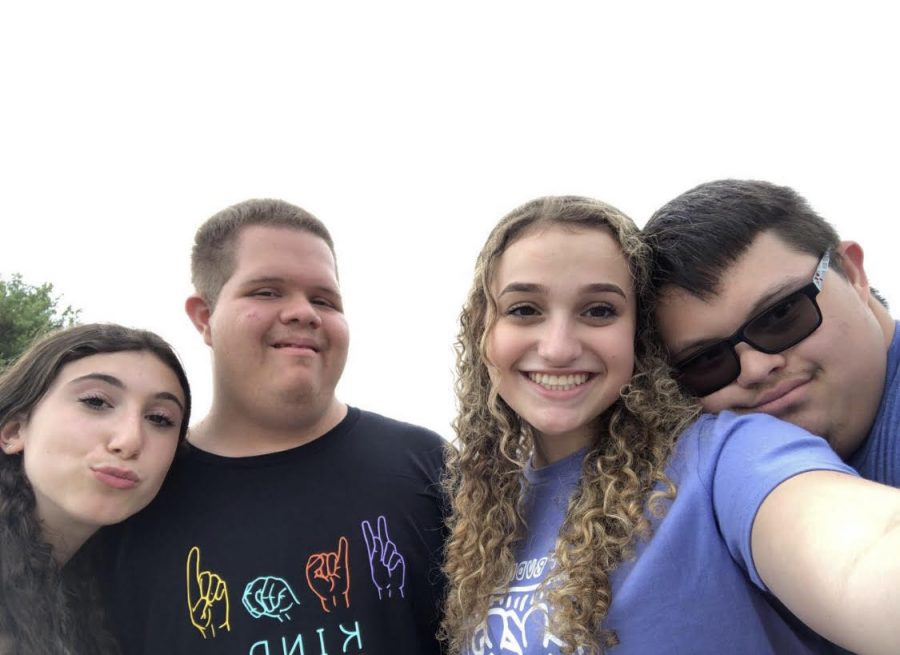 Olympic Heights offers a countless number of opportunities in order for students to be the most successful that they can be. Among those opportunities are the various clubs and organizations that students can join. 
Being a part of a club gives a student a sense of community and friendship. It is advised to join a club not just for the purpose of having it on a college application, but also to get the whole high school experience. There are so many different clubs at OH for all of the different kinds of things people are interested in, including DECA, Green Lions Club, FFEA, Best Buddies, We The People, JSU, Kindness Matters, Student Union, and Key Club.
Best Buddies is a club that is focused on inclusion, particularly with students with intellectual and developmental disabilities. The president of the club, sophomore Rikki Siegel, is excited to see what OH's chapter has in store for this year. Overall, "Best Buddies is an amazing nonprofit organization that aims to integrate and better the lives of those with intellectual and developmental disabilities,"  Siegel comments. The club has students pair up to be buddies wherein an intellectually or developmentally disabled student is paired with a non-intellectually or developmentally disabled student. The buddies are expected to regularly communicate and create a friendship. Through Best Buddies, lifelong friendships are made and every student knows that they are making a difference at the school. 
Kindness Matters is one of the many clubs at OH that focuses around creating a better environment for the school. The club's motto "Kindness Matter"' is taken to another new level as the club shows what kindness represents in the Lion community. Junior Brooke Sefton serves as President of the OH chapter. She hopes to "create a global kindness movement by inspiring and educating [students]" that decide to take part in the club. Kindness Matters is an excellent choice for students who are looking for a way to give back to their world. 
FFEA, Florida Future Educators of America, goes hand in hand with the Early Childhood Academy.  FFEA member junior Shea Posner comments on how the club is important if one is planning to choose a career in education. FFEA hopes to "educate [the students] on what to expect when being teacher,"  Posner explains. A major component of OH's FFEA involves Little Lions, OH's on-campus pre-school. FFEA holds events at the school for the community, such as the Harvest Festival. FFEA gives students the opportunity to learn what it is like to become an educator by doing projects and going to conferences. 
At OH there are over 40 clubs, and Best Buddies, Kindness Matters, and FFEA are only three of them. Every person has different interests and that's what the OH clubs are for. Students looking to get involved should contact the faculty sponsor of the clubs as indicated on the complete list of OH clubs below. 
CLUB / SPONSOR (ROOM #) /  MEETING DAYS
Academic Games / Mr. Musser (2120) / Tuesdays
AVID Club / AVID Prep/ Ms. A. Ludy (8114) / Tues. & Wed.
Best Buddies / Ms. Moore (2105) / 1st Tues. of month
Book Club /  Ms. Dickman (8110) / 2nd Mon. of month
Chess Club / Ms. Niemann (1147) / Wednesdays
Chinese Club / Ms. Qian  (2211) / 3rd Mon. of month
Criminal Justice Club / Mr. Martinez (2205) / 1st Tues. of month
Compete 2 Give / Ms. Mulford (2115) / 1st Tues. of month
Cosplay Club / Ms. A. Ludy (8114) / Mondays
Dance Team / Ms. Hoke (2208) / Tues. & Thurs.
Debate Club / Ms. Moss (8111) / 1st & 2nd Wed. of month
Distributive Education Club of America (DECA) / Ms. Beardsley-Dodd (6110) / to be announced
Drawing Club / Ms. Vargo (5104) / Mondays
Education Rocks / Ms. Zerbo (2101) / Tuesdays
Future Business Leaders of America (FBLA) / Ms. Shimmel (6103) / Tues. & Thurs.
Florida Future Educators of America (FFEA) / Ms. Mansa (6107) / Tuesdays
For the Babies / Ms. Barreto (2113) / 1st Tues. of month
French Club / Ms. Gaudreau (1222) / Tuesdays
Future Farmers of America (FFA) / Mr. Korn (8211) / Tues. & Thurs.
Gay Straight Alliance / Ms. Sclafani (2212) / to be announced
Girls Who Code / Ms. Nimmi (6114) / Fridays
Green Lions Club / Mr. Korn (8211) / Tues. & Thurs.
International Club/ Ms. DeLaCruz-Gutierrez (2213) / 2nd Tues of month
Jewish Student Union / Ms. Sommer (8118) / every other Wed.
Key Club / Mr. Weiland (8210) / Mondays
Marine Biology Club / Ms. Jewett (8215) / Thursdays
Math Honor Society / Ms. Sommer (8118) / 2nd & 4th Tues. of month
National Art Honor Society & Art Club / Ms. Tobal (5105) / Tues. and every other Wed.
National Honor Society / Ms. Koher (2112) / once a month
Psychology Club / Mr. Carruthers (6106) / Tues. & Thurs.
Rhu Kappa (Social Studies H.S.) / Mr. DiLorenzo (1226) / Tues. & Wed.
Samaratians 365 (Kindness Matters) / Ms. Baer (2121) / 1st Thurs. of month
Science, Engineering, Communication, Mathematics, and Enrichment (SECME) / Ms. Nimmi (6114) / Wednesdays
Science National Honor Society / Ms. Hamilton (8212) / 3rd Wed. of month
Student Athlete Leadership Team (SALT) / Mr. Holly (Athletic Director) / Mondays
Sign Language Club / Ms. Rew (8209) / to be announced
Spanish Honor Society / Ms. Chacon (2218) / once a month
Special Olympics / Ms. Williams (1148) / Thursdays
Sports Debate / Mr. Musser (2120) / Tues. or Thurs.
Student Government Association (SGA) / Ms. Bombanato (8106) / every 5th period
Student Union / Mr. Taylor (2204) / Mondays
Teens of Pink Ribbon / Ms. Saraga (2110) / 1st Tues. of month
Theatrical Dance / Ms. Grippo / Tues./Thurs.
Tri-M Music Honor Society / Mr. Andreacchio (3104) / to be announced
TV and Film Club / Mr. McKnight (1142) / every other Thurs.
We the People / Ms. Posner (2206) / 2nd Thurs. of month
Women of Tomorrow / Ms. Silverstein (8216) / once a month