Ruth Bader Ginsburg left a lasting legacy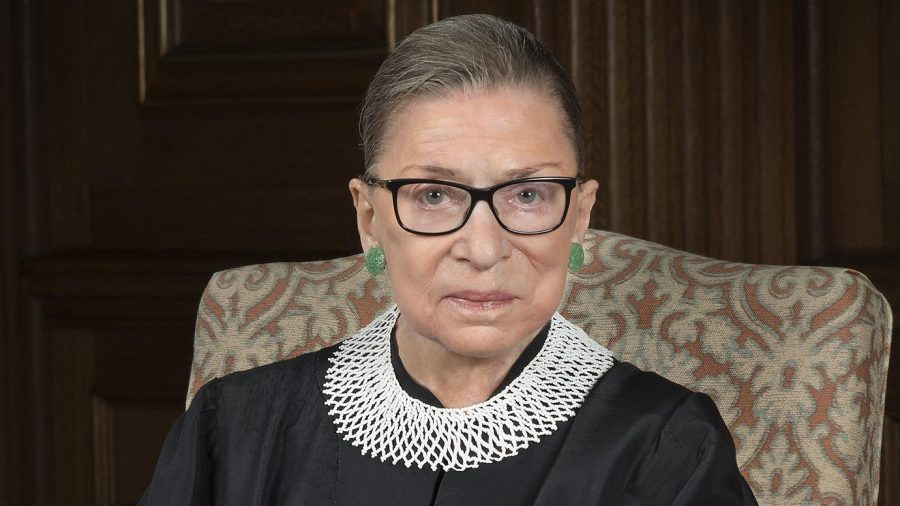 On Sept. 18, 2020, Supreme Court Justice Ruth Bader Ginsburg passed away due to pancreatic cancer. Throughout her 87 joyful years here on Earth, she helped to lead the United States in the right direction. From 1993 when she was nominated to the Court by Bill Clinton, and on, Ginsburg served not only as a Supreme Court Justice but as a role model for future generations.
Ginsburg had been the voice for many minorities being that she herself was both Jewish and a female. She was the second female to serve on the Supreme Court and the first Jewish female. The day that Ginburg passed was also the day that Rosh Hashanah began. The Jewish holiday, Rosh Hashanah, represents the start and celebration of the new year. Her passing in such a holy time has brought both meaning to her death and comfort to those mourning her death.
Ginsburg served over 27 years on the Supreme Court. And throughout the past 27 years she has accomplished many things. She has successfully fought against gender discrimination, where the fight is still being fought now in her memory. She also supported and believed in same sex marriage.
Ginsburg was like no other Justice on the Supreme Court. She stood as a prime example for girls and women of all ages. Rabbi Lauren Holtzblatt, whose husband served as a law clerk for Ginsburg, told National Public Radio that Ginsburg's life's work was "to insist that the Constitution deliver on its promise, that we the people would include all the people. She carried out that work in every chapter of her life."  Ginsburg stood as a model for women's rights and fought to make sure the Constitution lived up to its promise of equality for all.    
Her two main focuses while serving in office were to protect the rights of the marginalized, such as the LGBTQ+ community, undocumented people, disabled people, and women, and to expand voting rights. One major victory for Ginsburg during her time on the Court was in 1996 the playing field for women became a little more level. "Ginsburg wrote for the court's majority that 'exacting scrutiny' must be applied to any law that treats women differently than men," The Conversation reported.   
Olympic Heights social studies teacher Mr. Carlos Ramon stated, "Ruth was a progressive pioneer." Such examples include her remarkable career and the new path she was shaping for the posterity of America.  According to Ramon, "as a Supreme Court Justice, [Ginsburg] cast votes in support of abortions and same sex marriages," and her willingness to help the LGBTQ+ community has shaped "her judicial legacy" to be one full of "efforts to combat discrimination [especially] in our current social climate."
The hearts of the United States were shattered on September 18 when hearing the terribly sad news regarding Supreme Court Justice, Ruth Bader Ginsberg's death. The legacy she has left will live on and teach future generations what it means to be a true American. Knowing all of her accomplishments and the differences she has made, whoever becomes the 115th Supreme Court Justice, has very big shoes to fill.