That was then, this is now: A COVID-19 timeline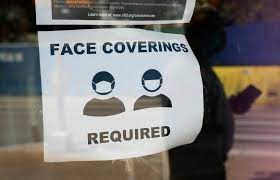 When widespread panic broke out in March of 2020 related to the dangers of COVID-19, life changed for everyone. Workplaces, restaurants, and places to spend time with others were shut down all over the world. The Centers for Disease Control and Prevention (CDC) declared that we were in a pandemic and created social distancing guidelines for the world to follow. Many people did not come in contact with anyone (besides their immediate family members) for weeks, months, or longer. 
In the latter months of 2020, Dr. Anthony Fauci, the Director of the National Institute of Allergy and Infectious Disease (NIAID), predicted, "A 'profound degree' of herd immunity won't likely happen until the end of 2021 or beginning of 2022."  As a result, Fauci  believes public health measures such as face masks and social distancing will continue until then, according to a webmd.com article. 
In instances where people would be in any contact with others, people were instructed to wear a face-covering or protective face shield to prevent people from further spreading COVID-19. A great number of jobs and opportunities were lost from the spread of COVID-19. The past few months have been a time of recuperation and recovery for the United States, along with the rest of the world. As situations have recently begun to improve, the restrictions have been loosened up quite a bit.
On March 13, 2020, former President Donald J. Trump declared COVID-19 to be a national emergency. Less than a week later, on March 19, California was the first state to issue a stay-at-home order. Two and a half months later, there were over 100,000 recorded deaths caused by COVID-19. Throughout July, hope was foreseeable as vaccines were close to being released to the general public, coming from companies such as Pfizer and Moderna.
During the next few months, countries had different reactions to COVID-19, along with its several variants. On Oct. 2, 2020, Trump and the former First Lady tested positive for COVID-19. This was after the president had downplayed the seriousness of this virus many times. On Dec. 18, 2020, the Food and Drug Administration (FDA) signed off on the usage of Moderna's vaccine. As different vaccines began to emerge, the American Hospital Association pushed for a faster vaccine rollout in January of 2021. 
On Jan. 20, 2021, Joe Biden was inaugurated as the new president and made promises in regards to vaccine availability in the US. In February, the Biden Administration purchased 200 million more vaccine doses from Moderna and Pfizer. At this point, the government had bought enough to vaccinate 300 million people. According to beckershospitalreview.com, "Pfizer's COVID-19 vaccine was 98.9 percent effective at preventing deaths or hospitalizations from the virus."
In early March, one year after the CDC recommended lockdowns, the CDC began to loosen those guidelines, stating that those who are low-risk and vaccinated can meet in a private setting without masks or social distancing. Additionally, in April, the CDC stated that those who are fully vaccinated can travel domestically. 
Towards the end of April, the CDC released another statement stating that those fully vaccinated are not required to wear masks when outside or dining at outdoor restaurants. Those age sixteen and older became eligible to get vaccinated, and teenagers have responded well to the COVID-19 vaccine. In the last few weeks, those who are age twelve and older became eligible to get vaccinated. 
In June, Biden announced, "The US has purchased and will donate 500 million doses of Pfizer's Covid-19 vaccine worldwide as it seeks to be a key player in getting other nations vaccinated," according to CNN.com. As time goes on, the COVID-19 situation continues to improve and things continue to return to normalcy around the world, which was the main goal of getting as much control over the COVID-19 pandemic as possible. 
Leave a Comment