Numerous acts to perform at Super Bowl halftime show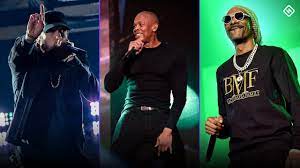 The Super Bowl is one of the most-watched events on television. Aside from the game itself, the spectacle is famous for its traditional funny commercials and the halftime show. The upcoming Super Bowl LVI has a long list of superstars lined up for its halftime show, and it is guaranteed to be an excellent performance. The stars that will be performing during the halftime show on Feb. 13, 2022, include Snoop Dogg, Eminem, Dr. Dre, Mary J. Blige, and Kendrick Lamar. 
Collectively, these five artists have 43 Grammy awards and have been famous in the music industry for decades. According to hollywoodreporter.com, "The music superstars, joined together for the first time, will take the stage for the 12-minute spectacle…" 
Eminem holds many awards since his first solo album, Infinite, dropped in 1996. He is the best-selling rapper of all time with over 200 million records sold worldwide. With 379 total Grammy nominations, Eminem has won 15 in his rap career, making him one of the most successful rappers in the industry. 
Carol Channing was the first celebrity to perform on the stage in front of thousands at the first Super Bowl halftime show in 1970. This event made history as now the most popular singers take the stage. 
The 2020-2021 Super Bowl halftime show was headlined by The Weeknd which, according to Olympic Heights sophomore Ryan Sacher, was a good performance. The artists at this year's Super Bowl LVI halftime show will have to fill the large shoes left by previous performers that have included Coldplay, Bruce Springsteen, Lady Gaga, Prince, Maroon 5, Justin Timberlake, and Michael Jackson to name just a few. 
Probably as popular as the halftime show with viewers are the commercials. The price of a 30-second commercial during the event has always been astronomical. For the 2022 Super Bowl, a 30-second commercial will cost advertisers $6.5 million. The Super Bowl is such a popular event for companies involved in its success because of how much revenue it brings in.  "The advertising revenue from the 2020 Super Bowl, for example, stood at a record 449 million dollars," according to statista.com.
And what would the Super Bowl be without the parties? Many people enjoy Super Bowl Sunday and celebrate it with their friends and family. Olympic Heights sophomore Logan Hesano, says he enjoys going to Super Bowl parties at his friend's houses every year.
The 2022 Super Bowl will also highlight the new ultra-modern, five billion dollar SoFi stadium in Southern California. People worldwide will tune in to watch the halftime show on Feb. 13, 2022, to see if it lives up to their expectations.
Leave a Comment