Olympic Heights c/o 2006 graduate Bryan Llenas is living his dream as a national news correspondent for Fox News
Bryan Llenas is a class of 2006 Olympic Heights graduate, a University of Miami (UM) graduate, and a current Fox News national correspondent. Llenas attended UM with a double major in journalism and political science to further his education, preparing himself for a successful career in a field that he loves. He credits OH for introducing him to journalism and putting him on camera through Lion's News Network (LNN) broadcasts. 
At age 33, Llenas is relatively young to be working with a major media outlet in the capacity that he does. He credits his success to being a "jack of all trades," a general reporter who can report on anything.
Llenas grew up watching the news and says that he was "obsessed with hurricane coverage, and I just wanted to update my family on hurricane coverage down in Florida all the time," Llenas said. "Any time we had a storm, I just found myself up extra early and staying up extra late and found the coverage addicting and exciting. That was my first foray into thinking: hey, I really like this." Growing up, watching the news with his family was a part of Llenas' everyday life.
Llenas says that he had an early curiosity to understand what was going on, which has always been a part of him. "I went to Olympic Heights and [joined] the Lions News Network, which I will forever love," Llenas told The Torch. "Ted Backes, who was in charge of the newspaper as well as the television production course there, was a mentor of mine and we are still in touch. I was in his class as a freshman, and he recommended that I join the television production course. I did, and it changed everything."
Llenas goes on to explain how LNN was an exciting experience for him as he got to sit at the anchor desk. The experience solidified what he had already known: that broadcast journalism was something he really wanted to pursue as a career. He enjoyed interviewing people in the hallways and felt that he needed to attend a university that would support his dreams. Because of this, Llenas attended UM and majored in broadcast journalism and political science. 
While in his junior year at UM, Llenas was offered an internship at Fox News, which then offered him a job at the end of his junior year. Fox News asked Llenas to be a founding member of foxnewslatino.com, as it would be ready to launch by the time he graduated. "I wasn't sure because I wanted to do television full-time, but I thought this was a unique opportunity, so I said yes." Because of this experience at Fox News, Llenas learned how to write for the web, which was new at the time. 
"With Twitter and Facebook and other social media platforms, digital is and remains a huge part of what we do," Llenas said. "I did that for a few years, and then in 2013, I got my big break."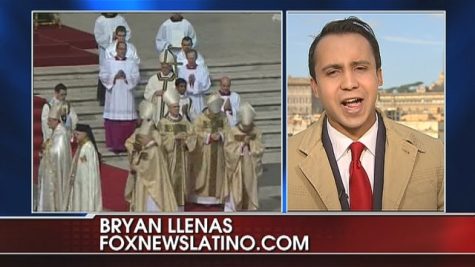 Llenas was assigned to cover Pope Benedict, who had just stepped down. He was in Rome doing a streaming show for foxnewslatino.com and Fox News when Pope Francis was chosen, the first Latin American pontiff ever. Llenas was there to report on it, and it was his very first "live hit" on national television, reporting live from the roof of the Fox News Rome bureau moments after Pope Francis was elected. 
"I still, to this day, have not seen the tape," Llenas reveals. "I refuse to. I remember being extremely, extremely nervous. I didn't really know what I was doing in my mind, but somehow it was good enough, and I ended up doing the Pope's inauguration a few days later."
Llenas' reporting on the inauguration of Pope Francis led to the next major step of his career. "I came back and I signed a contract, and I became a Fox News Channel Correspondent reporting mainly on weekends, and that evolved into digital reporting [which] evolved into becoming a full-time correspondent," Llenas recalls. "Now I've been working in the New York bureau for eight years. The only company that I do know and that I've worked for since graduating college is Fox. This summer will be 12 years."
Llenas credits his success to the experience he received in high school and college. "I think if anybody wants to get into journalism, a degree is helpful, but it really is all about the experience. Doing an internship or [going to] a university where you can work for their television station or newspapers, or for a local television station or newspaper in any capacity, will only serve to help you."
Llenas believes that the early experience he received set him up for success as it directed him to put all of his focus and energy into what he knows he loves. "I was lucky enough to know where I wanted to be and to concentrate my efforts to achieve my dream," Llenas told The Torch.
As far as what's ahead for Llenas, he wants to travel and be present at the world's biggest news stories. "I want to be able to report the news in a fair and factual way, and I want to be able to tell meaningful stories that will affect people, that will inform people, and that may just help people understand a little bit," Llenas explains. "I want to bring some clarity to the chaos that is our everyday world. As long as I'm in a position to continue to go and be there and to witness history on some of the biggest stories on the planet, that's where I want to be."
Llenas reminisces over past stories he's covered. His favorite story was the 2014 World Cup in Brazil. He says that this was the most fun reporting he has ever had. "I spent more than two weeks in Brazil," Llenas recalls. "We crisscrossed the country. We flew and traveled about 30,000 miles between all the different flights. We followed the U.S.A. team in Brazil for the World Cup. It was a digital writer and myself. We shot everything. We went live from the Amazon Rainforest, São Paulo, [and] Rio de Janeiro. We did some really cool work." 
In Llenas' opinion, one of the most important stories that he has covered would have to be the protests and riots of 2020. "Being out there in New York City on the front lines during these clashes between protesters, rioters, and the police was something that I'll never forget," Llenas told The Torch. "COVID-19 was raging at the same time as rioters were clashing with police. There were also people breaking into stores and stealing in the middle of Manhattan." Being out on the front lines from 6:00pm to 6:00am for days on end covering that chaos put Llenas right in the center of a major event in U.S. history.
Llenas' favorite part of his job, however, is the unexpected. He says that he never knows what he will be doing or how the day will end up. "I thrive in the excitement of breaking news and being out there in front of the camera or in the field during a breaking news story. To me, there's no greater thrill," Llenas explains. Most people do not go to work and end up being thrown into a historic moment, but this is a regular occurrence for Llenas. "I feel very lucky and grateful. My job is to be a witness to huge moments in our everyday lives, in our nation's history, and I feel very honored by the opportunity," Llenas adds.
A typical day in Llenas' life can be very different. He wakes up by 5:30am and is constantly preparing news and reading news. "Typically, that would mean preparing for a story that I am going to be live on beginning at 9:00am on America's Newsroom all the way through Special Report at 6:00pm," Llenas explains. "If I'm covering any given story on that day, I am preparing myself the night before. I am reading…making phone calls, setting up interviews, and doing that the whole day."
As Fox News is a 24-hour cable network, he can easily expect to work a 12 hour day. "I'm also turning in a report for Brett Baier, which is our nightly news program where the best stories get on the air," Llenas told The Torch. "At the same time, you have to be ready for breaking news [and] to be sent anywhere, for your story to change, or prepare for the next story that's coming down the pipeline.
"In this breaking news environment, I may be assigned a story on something that's happening right now, " Llenas adds. "You have to have some sort of an understanding of what's happening. I always feel better prepared when I read a lot and I know what's happening. In a nutshell, it's a lot of reading, writing, and phone calls, and then, 'Oh, by the way, you have to put on a tie and some makeup and get on TV.'"
Llenas offers advice to high school journalists, saying, "Don't be afraid to make mistakes. Try everything. Don't try to rush it. You are always going to be learning. This is a career field where learning never stops. There is always going to be someone that is better. You need to stop comparing yourself to other people. You need to compare yourself to yourself." 
Llenas continues to explain that journalism is an extremely subjective field and that everyone has an opinion on a reporter's work. His advice is to do what feels right and worry about yourself. "What will differentiate you from everyone else who's trying to be the next best reporter is just being yourself and just learning who you really are. That's what will make you different," Llenas advises. "The only competition you have to worry about is yourself. Are you better today than yesterday? That's a win. Don't get down on yourself. Embrace the learning, advice, and journey. This journey is what will make you a better reporter."
For someone who wants to pursue a career in broadcast journalism, Llenas advises they get in front of the camera as quickly as possible. "If they can [get in front of the camera] in high school, that's great," Llenas says. "Watch a lot of news. Read the news. Know what's going on in the world. Start watching people that you admire and how they do the job. Then, apply that to yourself and start actually doing it. You'll never know what it's like to be in front of the camera unless you're actually in front of a camera. Get there as quickly as possible. Start realizing that you have to critique yourself as you go along. Experience. With experience, more opportunities will open up for you."
Since its inception in 1996, Fox News has received criticism for being too conservative and slanting the news to fit a conservative agenda. Llenas responds to that charge by saying, "The opinion people do what the opinion people do. News reporters here do what we do, and that is the news. I fully believe that the news reporters here are absolutely top of the line." He continues to explain that opinion reporters have nothing to do with news reporters and that Fox News does an excellent job at keeping the news reporters away from the opinionated side of the network. 
"Reporters do their job with integrity. We have standards. I can speak for myself and the reporters I work with by saying that we do our jobs with integrity and we just try [to] get it right," Llenas asserts.
"I think the same can be said by the people who work at MSNBC, which has more of a liberal editorial bend in terms of their opinions," Llenas adds. "The journalists there at MSNBC have no interest in that political stuff. They just want to do their job and go with the facts. Just because our opinion people have a conservative bent, it is not reflective of the type of reporting that I do. I would not be here if I had to sell my integrity at any moment, and they've never made me do that."
Llenas adds that the line between opinion and news with journalism has become blurred, which is something he deals with on a daily basis. "It's our job as news reporters to just try to make sure that we do our job fairly and accurately," he explains. "That's what my purpose here is, and other people's purpose is to provide their opinion on perspectives, and I [couldn't] care less about sharing my opinion on anything. That's not why I'm doing this."
Despite his amazing success at an early age in a profession he loves, Llenas has not forgotten where he got his start. "I love Olympic Heights High School," he exclaims. "I am a proud Lion. Some of the best memories of my life were at OH. I'm really proud of LNN and going there. I can't wait to go back one day to visit campus and to see what's going on. Go Lions! I'm excited to hopefully work with people who went to OH. We need more Lions in journalism. I wish everyone there luck."
View Comments (3)