TEACHER FEATURE: Dr. Seth Alper
How many years have you been teaching, and how many of those have been at Olympic Heights? 
-I have been teaching for 18 years, and this is my third year at Olympic Heights.
What courses are you teaching this year? 
AICE Psych- AS & A levels
From which colleges or universities did you earn your degrees? 
FAU, from undergrad to PhD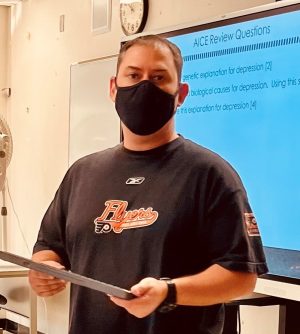 What other jobs have you held? 
Temp ones before getting into education
What are your hobbies and interests? 
Home remodeling, fishkeeping, etc. 
What are your favorite books? 
Ones by Dan Brown, stories by Poe, and Gatsby.
What is your favorite movie? 
Too many top ones.
Who are your favorite musical artists and/or acts? 
Tons, varying from Metallica to Springsteen to Buffet to Chesney.
What is your favorite meal?
 Steak and potatoes 
What is your guilty pleasure? 
Cape Cod chips and/or Snickers; perusing Home Depot and Lowes power tool section
What would be your dream vacation?  
Cruise the world
What is your favorite quote? 
I don't really have one.
Leave a Comment