TEACHER FEATURE: Mr. James Cullen
How many years have you been teaching, and how many of those have been at Olympic Heights?
This is my 14th year teaching and my 4th year at OH.
What courses are you teaching this year, and which is your favorite to teach?
I teach Algebra II Honors, Calculus Honors, and AP Calculus BC. Calculus BC is easily my favorite class to teach.
From which colleges or universities did you earn your degrees?
I earned my bachelor's at Niagara University in Niagara Falls, N.Y. I earned my master's degree at Canisius College in Buffalo, N.Y.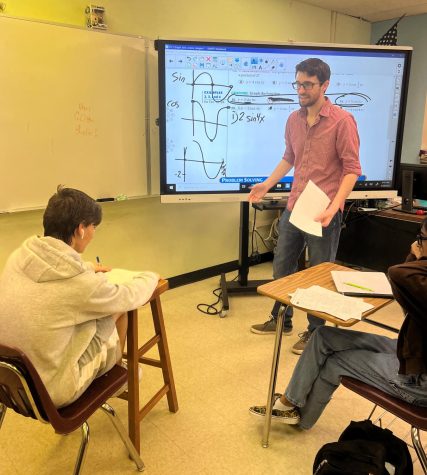 What other jobs have you held?
I worked at a grocery store called Tops Friendly Markets in Lockport, N.Y. from when I was 17 until I was 23. Other than that, only a bunch of different teaching positions during the years.
What are your hobbies and interests?
I love reading, playing video games, playing soccer, and snowboarding, although I haven't snowboarded in years. Stupid Florida with its super hot weather and no mountains.
What did you want to be growing up as a kid?
Honestly, I started thinking about being a teacher in the sixth grade. I did a project on it, and it seemed like a good profession. I get to help others. Do lots of math problems, which I love, and I get to meet new people every year. Seemed like a good gig.
If you weren't a teacher, what do you think you would be doing for a living?
When I was in high school I used to be in the computer-aided drawing and pre-engineering classes. If my high school didn't lose funding for the AP Engineering and the AP Architectural CAD program for my senior year, I could very well have been an engineer or an architect instead of a teacher.
What is your favorite book?
My favorite single novel is The Stand by Steven King. My favorite series is The Wheel of Time by Robert Jordan.But my favorite writer is Brandon Sanderson and I love his The Stormlight Archive. I told you I loved to read, which is weird for a math teacher.
What is your favorite movie?
Best individual movie is Fight Club. But, overall I absolutely love all the Marvel movies.
What is your favorite song?
"Crawling" by Linkin Park. Followed by "Mr Brightside" by The Killers. Third is "Nothing Better" by The Postal Service. You probably do not know this one. Look it up, its good.
Who are your favorite musical artists?
Linkin Park, The Killers, Panic at the Disco
What is your favorite meal?
TACOS! My mom's tacos or nachos is my favorite meal of all time.
What is your guilty pleasure?
Drinking Mountain Dew. I know it is bad for me, but I cannot stop!
What would be your dream vacation?
Just chilling on the beach reading several novels during the course of a week.
What is your favorite quote?
"Why do today, what you can do the day after tomorrow." I used to procrastinate a lot when I was younger.
Is there anything else you would like to share?
Crazy, but I still do love teaching. It has been 14 years, but my students consistently keep it fresh and interesting. So the only thing I want to share is: thank you.
Leave a Comment