The world mourns the passing of Queen Elizabeth II
The world has been shaken by the death of Queen Elizabeth II. Crowned the ruler of England in 1952 at the mere age of 25, the queen passed away peacefully on Sept. 8, at the age of 96 in Balmoral Castle. As the United Kingdom's longest-ruling monarch, the queen left a lasting impact on her subjects and on the world. 
Elizabeth II was the matriarch of the extensive royal family, with four children, eight grandchildren, and 12 great-grandchildren. Her oldest son has been crowned King Charles III at the ripe age of 73. Many people question whether he is the best fit to rule after being the face of many controversies, notably committing adultery during his first marriage and delaying his response to the tragic death of Princess Diana.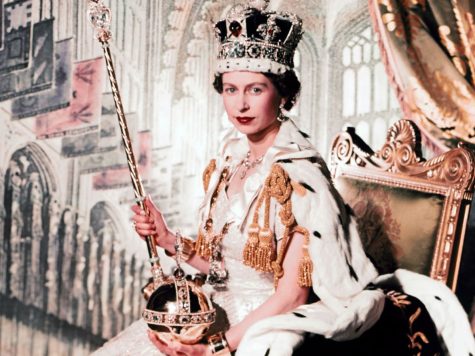 The royal family is no stranger to controversy; however, Elizabeth II faced it all with a smile and a wave. She tried to keep her family out of the limelight, especially during the speculation surrounding Diana's death. She also kept her political views from the public, remaining a non-partisan monarch and upholding her role as the figurehead of the constitutional monarchy. 
In addition to practicing political neutrality, Elizabeth II consistently advocated for equality and respect between those of different viewpoints. In her 1974 Christmas speech, she stated, "We may hold different points of view, but it is in times of stress and difficulty that we most need to remember that we have much more in common than there is dividing us."  
Elizabeth II was considered a symbol of continuity, stability, and comfort during her long reign. She survived many tragedies and pulled through, bolstered by public support. She was lovingly referred to as the "grandmother of the nation."
Elizabeth II was also known for her love of animals, specifically Welsh Corgis and horses. She cared for over 30 corgis over the course of her life, and a few of her treasured pets were with her until her death. She also owned many thoroughbred horses and was known to attend races and breeding events regularly. The queen was also known for her bright eye-catching outfits, all accompanied by a matching hat. 
Prior to her coronation, the young Princess Elizabeth worked as a mechanic in World War II. She joined the Auxiliary Territorial Service (ATS) in 1945, making her the first female member of the royal family to join the armed services as a full-time member. 
Elizabeth II was married to Prince Phillip for over 70 years before his passing in 2021. Together, they hold the record for the longest royal marriage. "[Prince Philip] has, quite simply, been my strength and stay all these years, and I, and his whole family, and this and many other countries, owe him a debt greater than he would ever claim, or we shall ever know," she stated in an anniversary speech in 1997. 
Their marriage, though successful, was once contested by the royal circle due to Prince Philip's German blood and inferior finances. Despite this, their love prevailed, and they were married on Nov. 20, 1947. They shared their duties as queen and prince consort, setting an example for equality between spouses in a marriage. 
Elizabeth II was on the British throne through many historical events. She reigned during the Vietnam War, the Apollo 11 landing, the assassinations of U.S. President John F. Kennedy and Martin Luther King Jr., and, most recently, the COVID-19 pandemic. Over the course of her reign, she met 13 out of the last 14 U.S. presidents, putting into perspective the longevity of her rule. 
Elizabeth II was a role model for many female leaders across generations. Former Prime Minister of New Zealand Helen Clark expressed, "She exemplified dignity in leadership by a woman, and I think we may underestimate that type of impact that she had on our lives." 
Despite her advanced age, Elizabeth II's death was still a shock to the world, as most people have not lived outside of her reign. Even after surviving COVID-19 last October, she seemed invincible to many. Tensions rose around the world when the concerns for her health were announced, and the world was devastated by the news of her passing that afternoon.
The new king addressed the country for the first time on Sept.9, paying respects to his mother, "Throughout her life, her majesty the queen—my beloved mother—was an inspiration and example to me and to all my family, and we owe her the most heartfelt debt any family can owe to their mother; for her love, affection, guidance, understanding, and example." He continued, "Queen Elizabeth was a life well lived; a promise with destiny kept and she is mourned most deeply in her passing. That promise of lifelong service I renew to you all today." 
For the first time in over seven decades, England no longer has a queen. The public waits to see how the new king will uphold his mother's unforgettable legacy. 
Leave a Comment