NEWS ANALYSIS: Celebrity candidates nothing new, but are becoming more commonplace and increasingly erratic
The 2022 midterm elections have ended, and many races have made headlines due to the household names running for office. Many were initially surprised to see some familiar faces take to the political stage, but more and more celebrities are entering the political sphere in recent years. 
The first notable celebrity to make it into office was President Ronald Reagan, who was an actor before being elected governor of California in 1968 and re-elected in 1972. He then ran for and was elected U.S. president in the 1980 and re-elected in 1984. 
Other big-name celebrities entered the political scene again in the early 2000s with actor Arnold Schwartzenegger also being elected governor of California in 2003 and 2007, and comedian Al Franken being elected to represent Minnesota in the U.S. Senate in 2008 and 2014.
Reagan and Schwarzenegger proved successful in office: Reagan was known as "The Great Communicator" for his personability and received high approval ratings, while Schwarzenegger served two successive and successful terms as the governor of California. On the other hand, while Franken was a popular senator for Minnesota, he resigned his office in 2018 after several allegations of sexual misconduct came out about him.
These examples bring about many questions: Should celebrities be elected into political offices? How can we assure that democracy isn't a popularity contest? When does the curtain fall, and when do we see past a household name and find an imperfect person who is potentially dangerous in a position of power and as a role model? 
"I think most of our political system is corrupt in a million different ways," said Olympic Heights senior Sami Levick," and celebrity involvement exposes that by demonstrating how politics are not about true moral, economic, or social values, but rather the influence and popularity of each candidate."
With the resurgence of celebrities entering politics since 2016 and with the 2022 midterms, many Americans are evaluating their impact on government, and these famous individuals are transforming their public images, sometimes for the better, but mostly for the worst. While there have been some instances of success, the failures for both these celebrities' campaigns and their public images are far greater.
Herschel Walker is a former NFL running back who ran for a U.S. Senate seat in the 2022 Georgia midterm elections as the Donald Trump hand-picked Republican candidate. Walker played for the University of Georgia, where he set countless NCAA and SEC records and won the Heisman Trophy. In his 15 years in professional football, he played for the New Jersey Generals, Dallas Cowboys, Minnesota Vikings, Philadelphia Eagles, and New York Giants. 
Walker was diagnosed with Dissociative Identity Disorder (DID), a mental condition in which childhood trauma causes the brain to process triggering emotions by creating multiple personalities. In 2008, Walker published his memoir Breaking Free, which details his experience with DID. However, he recently stated that he no longer struggles with mental illness, saying that "by the grace of God, [he has] overcome it," reported the New York Times.
Running against the Democratic incumbent Raphael Warnock (D) in the Georgia election, Walker's troubling past came to light while on the campaign trail, tarnishing his image. Walker was accused of extreme violence toward his ex-wife Cindy DeAngelis Grossman, including a shocking instance in which he put a gun to Grossman's head and threatened to kill her.
Additionally, while Walker highlighted his conservative family values as a candidate, it was also alleged by multiple women that he had impregnated them out of wedlock and insisted on and paid for their abortions. Inflamed by the recent overturning of Roe v. Wade, Walker's conservative following was mildly shaken at best by the hypocrisy of Walker, who claims to be "anti-abortion."
The general election on Nov. 8 was forced to a runoff between Walker and Warnock because no candidate secured 50 percent of the vote as required by Georgia law. In the Dec. 6 runoff, it was nip and tuck throughout the vote count, but Warnock prevailed by pulling away with the 51.4 percent to 48.6 percent victory.
Dr. Mehmet Oz is a world-renown surgeon and TV personality who ran for the U.S. Senate in the Pennsylvania 2022 midterm, also as a Trump handpicked candidate. Oz hosted the 10-time Emmy award-winning "The Dr. Oz Show," which came to an end after 13 seasons this past January. It helped raise money for a slew of charities including St. Jude Children's Research Hospital, March Of Dimes, and the non-profit Oz founded, HealthCorps.
Oz attended Harvard University as an undergraduate and went on to earn degrees from the University of Pennsylvania School of Medicine and the Wharton School of Business. He worked at the New York Presbyterian Hospital where he performed many life-saving heart operations and helped invent many devices related to heart surgery. Oz no longer practices medicine on patients but is Professor Emeritus at Columbia University
On the show, Oz prioritized "bringing more transparency to health and wellness." However, he often promoted supplements and wellness products "in regular segments that often blurred the line between medical advice and advertising, while also donating millions of dollars more to Oz's charity," according to the Associated Press. 
During the COVID-19 pandemic, Oz became prominent on the conservative health scene, promoting both on his show and on networks such as Fox News the drug hydroxychloroquine. Oz dogmatically spoke of the drug's ability to treat COVID-19, and former president Donald Trump even claimed to have taken it when he had the virus, further spreading misinformation about it. 
In the 2022 Pennsylvania Senate race, Oz ran as a Republican against sitting Lt. Governor John Fetterman (D). During the campaign, Oz faced controversy when he was accused of animal abuse. Reports stated that Oz headed experiments that "caused the death of more than 300 dogs," according to Newsweek. Oz denied involvement in the deaths of the dogs.  
Fetterman, who suffered a stroke during the campaign, defeated Oz by almost five percentage points.
Caitlyn Jenner is a former Olympic gold medalist and reality TV star who ran for governor of California in 2021. She was born Bruce Jenner, and prior to transitioning, Jenner was a track and field athlete who broke the world record in the men's decathlon at the 1976 Olympic Games in Montreal. Jenner had previously played college football for the Graceland Yellowjackets, but a knee injury took her out of the sport for good and led her to track and field.
Jenner's fame skyrocketed years later as a cast member of Keeping Up With the Kardashians, a reality show that went on for 20 seasons and focused on the lives of Jenner, his wife Kris Jenner, and their daughters, Kim Kardashian, Kourtney Kardashian, Khloe Kardashian, Kylie Jenner, and Kendall Jenner. Jenner became part of the world's most famous reality TV family.
When Jenner publicly came out as transgender in 2015, she received a massive amount of praise from fans, fellow celebrities, and her family members. She starred in her own reality show, I Am Cait, from 2015 to 2016, which detailed her transition.
However, coming out as transgender was not the only "coming out" that Jenner has done. In 2021, she made her political views known when she announced that she was running for governor of California as a Republican. Jenner told Fox 11, Los Angeles, that "it was easier to come out as trans than as a Republican candidate" to her family. In the general election, Jenner failed to pose a challenge to the incumbent Governor Gavin Newsom (D), earning just one percent of the vote.
Jenner has faced backlash in the last year for her anti-transgender views, especially considering her own journey with gender identity. For one, Jenner supported legislation to bar transgender girls from playing with cisgender girls in school sports. She told TMZ, "This is a question of fairness. That's why I oppose biological boys who are trans competing in girls' sports."
Jenner's hypocrisy has been put on blast by the LGBTQ+ community. In addition to her lack of support from her own community, the Republican party has not embraced Jenner either, especially when it seemed as though Jenner wasn't taking her gubernatorial campaign seriously. As the most famous transgender woman in the world, Jenner has become more shunned than celebrated.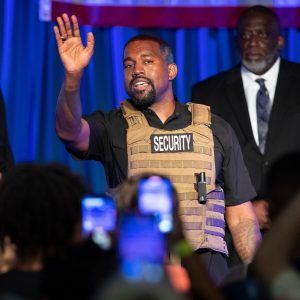 Kanye West is a rapper, producer, and owner of Yeezy who ran for president in 2020 and has been under fire as of late for a series of controversial sentiments. West is often referred to as one of the most influential artists and producers of his generation. He has 11 studio albums, two live albums, 2 collaborative albums, and one compilation album, and he has sold over 35 million copies in his almost two-decade-long career.
West is no stranger to controversy, his antics range from interrupting Taylor Swift's VMA acceptance speech to say Beyonce deserved the win to stating that President George Bush "doesn't care about black people" during an NBC program for Hurricane Katrina relief. However, his comments have only gotten more outrageous and offensive in recent years, and fans can't continue to make excuses for the rapper's behavior.
During the 2020 election, West announced his run for president in addition to his endorsement of then-incumbent Donald Trump. In his speech following the announcement, he made claims that abolitionist Harriet Tubman "never actually freed the slaves." Many blasted West for his interpretations of history, but luckily for them, West missed the deadline to get on the ballot in many states and ended up receiving only 60,000 votes across 12 states in the election.
West's image has continued to plummet as of late with his many controversial comments. In the past few months, he wore a "White Lives Matter" t-shirt, sparking confusion and outrage online, and made many anti-Semitic comments on Twitter, causing him to face massive backlash. 
West has been outspoken about being diagnosed with bipolar disorder, and some have used this to explain the rapper's controversial behavior. However, others find that mental illness cannot act as an explanation. As former Saturday Night Live cast member, and second side of a recent online feud with West, Pete Davidson said in 2018 regarding West's past controversies, "Being mentally ill is not an excuse to act like a jackass."
West recently announced that he plans to give the presidency another shot in 2024, even saying that he would like former president Trump to be his running mate. Fans, former fans, and haters of West will be gearing up for quite the election season.
Donald Trump is a businessman and TV personality who served as the 45th President of the United States. Trump took over his father's real estate business after graduating from the Wharton School of Business. From there, he expanded the company operations and established a "Trump empire." 
From 2004 to 2015, Trump hosted the NBC reality show The Apprentice, which tested contestants on their business skills. Trump's fame skyrocketed, and he became known for his catchphrase, "You're fired!" NBC later said, "You're fired!" to him in 2015 when in his announcement that he would run for president in the 2016 election, he made disparaging remarks about Mexican immigrants.
During his 2016 campaign for president, Trump used bullying tactics to build a following and bash his Democratic adversaries: he called into question outgoing President Barack Obama's birth certificate, mocked a reporter with a disability, and referred to his opponent Hillary Clinton as "Crooked Hillary." Nevertheless, he won the election with 306 electoral votes to Clinton's 232, despite losing the popular vote.
Trump's controversial behavior only continued while in office. For example, he imposed immigration bans on predominantly Muslim countries, which came to be known as the "Muslim Travel Ban." He withdrew the United States from the Paris Agreement to engage in efforts to fight climate change. He regularly fired cabinet members who voiced opposition to his actions, creating an unstable bureaucracy. 
In early 2020, Trump delayed informing the public of the COVID-19 outbreak in China before the pandemic forced a quarantine in March. In addition to the pandemic, the country faced a social reckoning on racism in 2020 with the murder of George Floyd and the Black Lives Matter protests that followed. Trump responded poorly to this as well, such as ordering police to spray peaceful protesters outside the White House with tear gas so he could do a photo op.
These actions contributed heavily to Trump's 2020 loss to President Joe Biden. Trump went on to persistently discredit the results of the election, ramping up his supporters in an ongoing claim of election fraud. These claims climaxed on Jan. 6, 2021, when Trump urged his supporters at a rally to storm the Capitol Building while the U.S. Senate was in session to count electoral votes confirming Biden's win.
Trump has changed the political landscape forever, contributing heavily to the increased partisan divide and hatred in this country. He has built up a loyal following, but his behavior has caused him to lose the support of many Republicans. Trump announced that he plans to run for president again in 2024, but it doesn't seem likely that he will go as far as he did in previous years. Nevertheless, it is safe to say that there will not be an end to celebrity politicians.
Leave a Comment