OH Early Childhood Teacher Academy offers a career path for students with a passion for working with young children
The Olympic Heights Early Childhood Teacher Academy (OHECTA) prepares students to become teachers of young children employing disciplines from various fields of study such as child psychology, social work, and of course, educational strategies. Students are provided with the opportunity to learn and understand how to properly teach young children.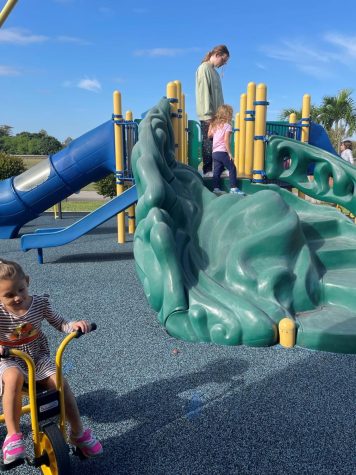 Students in the academy spend four years training for these children-centered careers. The on-campus Little Lions Preschool allows interaction between the academy members and a true learning environment for young children. 
According to OHECTA senior Lexi Minor, "In early childhood, we both learn how to take care of children in a classroom setting, the typical and expected development of young children, and assist the preschool teachers in watching the preschoolers in Little Lions."
As part of the academy, students not only help out in the preschool during classes, recess, and lunch, but also spend time planning and executing activities for the Little Lions. They draft and develop activities such as crafts, books, and lesson plans. 
Much like every other academy at OH, the OHECTA also maintains involvement with the school outside of the classroom. Every Halloween, the Little Lions, accompanied by their student teachers, go trick-or-treating around the school to various classrooms. Additionally, the Little Lions participate in high school activities such as assisting the varsity cheer team at a football game during the football season. 
According to OHECTA senior Sydney Shapiro, "Our biggest yearly academy event is Harvest Fest, which typically takes place at the end of October. It is the biggest event that the academy hosts every year." Minor further explains, "This is a fall event where young children, not just from Little Lions, can come and play fall-themed games while in costume." 
For Harvest Fest, the OHECTA freshmen create various fall-themed booths and games for the Little Lions and the surrounding community. Upperclassmen help out as well by running advanced booths, setting up, and cleaning up. Not only does this bring fun activities to the local community, but it also requires the academy members to work as a team to coordinate and get their jobs done.
The OHECTA students are also members of the Future Florida Educators of America (FFEA). "It is a club that meets once a month and works together to put on activities such as Parents Night Out," OHECTA teacher Ms. Heidi Mansa explains. Anyone from OH can join the club, not just those students in the OHECTA. Events such as Parents Night Out give a break to the parents and allow the academy students to interact with the Little Lions children beyond normal school hours.
"The Early Childhood Academy is a great way to engage children from our community and allow for them to have fun and expose our academy members to young children and more experiences with them," Minor explains.
Leave a Comment