Leeds United becomes a favorite for American soccer fans
As soccer continues to grow its popularity in the United States, so does the English Premier League. Being the most popular league in the world, and the second most viewed soccer league in the U.S., the Premier League is home to many of the world's most popular teams. England's big six clubs – Manchester City, Liverpool, Chelsea, Tottenham, Arsenal, and Manchester United – attract the most viewership from American fans, for they have the majority of best players, wins, and TV time. However, one club has quickly become a fan favorite for American English soccer fans.
Leeds United is quickly climbing the rankings in American popularity. After spending 16 seasons in the lower divisions, the Northern English club was recently promoted back to the top tier of English soccer in 2020, and ever since American promotional ties have only grown stronger with the English club. With an American coach, multiple USMNT stars, and even a former U.S. college soccer player, Leeds United have become America's team in Europe's most prestigious league.
"I was surprised earlier this year when I saw they were streaming Leeds games over some bigger teams like Chelsea and Liverpool." Olympic Heights senior Adrian Thomas told The Torch, "I watch Premier League games every weekend, and getting to watch the American players on Leeds was pretty cool."
Leeds United's American ties can be traced all the way back to their ownership board. In 2018 the San Francisco 49ers investment group – 49ers Enterprises – purchased a 10% stake in the club, which four years later has grown to a 44% stake with an option for a total purchase by January 2024. 
Californian native Paraag Marathe, President of 49ers Enterprises and Vice Chairman of Leeds United, set out to bring his NFL expertise and business advice in order to guide the English club back to the promised land. So far, this bet has paid off, seeing the club's value jump from $45 million to $400 million overnight, following their Premier League promotion in 2020.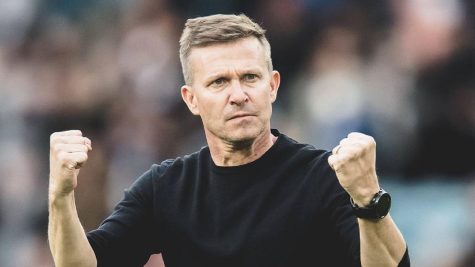 But life in the Premier League hasn't been easy so far for Leeds United. After struggling to start last season on a good note, and being on the edge of relegation, Leeds fired their head coach, leading to the hiring of Wisconsin native Jesse Marsch this past February.
Marsch became just the second American head coach in Premier League history and made an instant impact saving Leeds from relegation in 2022, guaranteeing him the job for the following season. With a full season ahead of him, Marsch went to work in the summer bringing in two familiar faces to American fans.
Marsch brought in two USMNT stars in Tyler Adams and Brenden Aaronson, who he worked with at RB Leipzig and RB Salzburg respectively. Both will be featured in the World Cup this winter for the US and have been a major part of Leeds United's 2022-23 Premier League campaign so far. 
Tyler Adams is a 23 year old New York native who has previously worked with Marsch at both New York Red Bulls and RB Leipzig, before rejoining his former coach at Leeds United for a $18.7 million fee. The USMNT starting midfielder will be a key part of the squad in Qatar, and has been a key part of Leeds United's Premier League season, appearing in 13 of 14 possible games. 
Brenden Aaronson is a 21 year old New Jersey native who has been making a name for himself at the English club. Aaronson started his career in the MLS, playing his debut season for Philadelphia Union at the age of 18. Following his debut MLS season, Aaronson made the move to RB Salzburg where he would work with Marsch, before rejoining him at Leeds for a $36.13 million fee. The USMNT forward has started all 14 games this Premier League season, and made an instant impact scoring a goal in the 3-0 statement win against Chelsea earlier this season.
Another American connection within Leeds United is 25-year-old Jack Harrison. The English winger has one of the most unique stories in the Premier League. Beginning his youth career at Manchester United academy, Harrison would later move to the United States at age 14 to pursue a better education. After excelling in and out the classroom, Harrison would go on to play college soccer at Wake Forest University. 
Harrison went on to only play one year in college as he was selected #1 overall in the MLS Superdraft the following year. After being drafted by the Chicago Fire and traded to NYCFC, Harrison would shine in the MLS playing alongside the likes of Andreas Pirlo, David Villa and Frank Lampard. 
After nearly 60 appearances and over 20 goal contributions, Harrison was sold to Manchester City in 2018, making his return to English soccer. Now in 2022, Harrison finds himself as a cornerstone of Leeds United's team, having appeared in 13 of their 14 games so far this season. 
Leave a Comment