Solo, A Star Wars Story Satisfies Despite Shortcomings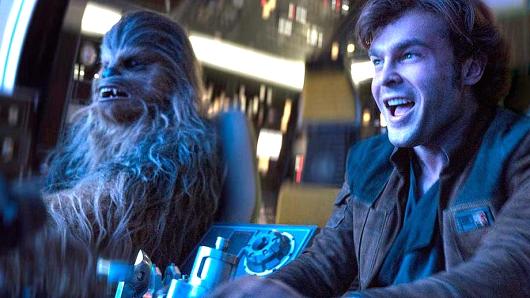 Hang on for a minute...we're trying to find some more stories you might like.
The arrival of Solo: A Star Wars Story in theaters has been met by relatively unenthusiastic responses from fans. The new film was released on May 24, and it centers on the life of a younger Han Solo. It has received a 7.2/10 score from IMDb and a 70 percent rating from Rotten Tomatoes, with the Critics Consensus saying, "A flawed yet fun and fast-paced space adventure, Solo: A Star Wars Story should satisfy newcomers to the saga as well as longtime fans who check their expectations at the theater door."
The movie begins with a young orphaned Han Solo (Alden Ehrenreich) on the planet Corellia. He and his friend Qi'ra, along with many other children, must steal and salvage for the black market to survive. Han promises Qi'ra (Emilia Clarke) that they will leave Corellia behind one day. As a young adult, Han is able to escape, but he gets separated from Qi'ra. He then makes it his mission to become a pilot so that he can return for her.
While training for the Imperial air force so that he can become a pilot, Han is forced to join the infantry. It is during this time that he meets Beckett (Woody Harrelson) and his team of smugglers. Han is determined to join the smugglers, and he soon finds himself on a dangerous mission with them.
Han and Beckett owe the crime lord Dryden Vos (Paul Bettany) and his organization Crimson Dawn some valuable coaxium. Their solution is to do the Kessel Run, a journey to the mining planet Kessel to steal raw coaxium. To accomplish this, Han needs a fast ship, and he soon comes across one when he meets the suave Lando Calrissian (Donald Glover) who owns the Millenium Falcon. An exciting adventure ensues, and loyalties are questioned as the true leader and motivations of Crimson Dawn remain a mystery.
Many Star Wars fans are hesitant to head to the theaters for the legendary saga's newest installment because they fear that seeing any actor other than Harrison Ford playing Han Solo will feel just wrong. They do not wish to learn Han's backstory and see this different version of him, thinking that it will "tarnish" the original Han Solo that the world knows and loves.
Others just do not think there is a worthwhile story being told in this film. I also shared many of these doubts, but after viewing Solo, I was pleasantly surprised. Ehrenreich's version of Han stays true enough to character that most fans should remain satisfied, while also bringing his own qualities to the role. Some of the plot and storyline are surely irrelevant in the grand scheme of Star Wars, but it is still an overall enjoyable film that fans should consider watching.
Solo proves to be quite an exciting adventure, with many twists and turns and moments where the viewer does not know who is on which side. Solo provides background and context for one of the most beloved characters in the Star Wars universe, along with his friends. The movie explains matters such as how Han met Chewbacca and Lando, how Han got the Millenium Falcon, how he got into smuggling, and even how he got his last name.
For fans who have long been wondering what the famed Kessel Run that Han often boasts about completing in only twelve parsecs is, that is revealed as well. The film also addresses the rights of droids and portrays them as having thoughts and emotions and being equivalent to humans. This is a first in Star Wars movies, which have always involved countless diverse human-like species and droids. Furthermore, a screenwriter for Solo recently added to the diversity and inclusivity of the movie by announcing that the character Lando Calrissian is pansexual.
Solo makes for a fun and interesting introduction to Star Wars for new fans, but it will make more sense and have a greater meaning for fans familiar with the other Star Wars movies. However, Solo contains some continuity issues for diehard fans who have read the novels, comics, or works from the Star Wars Expanded Universe.
The film creates a story for Han that diverges from that in the novelizations. But then again, the newer sequel movies (The Force Awakens and The Last Jedi) already stray completely from past novelizations and established canon anyway. I advise those fans just to enjoy the films on their own merit and regard them as independent from the novels.
The ending of Solo is open enough that Disney could potentially make a sequel, but the more likely option is a spinoff utilizing a new character like Qi'ra or perhaps the leader of Crimson Dawn who is revealed at the end. At the very least, they will be sure to allude to some characters or events from Solo in future installments of the franchise.