Olympic Heights Students Organize to Effect Change in Regards to School Shootings
Since the horrifying shooting last Wednesday, Feb. 14, at Marjory Stoneman Douglas High School in Parkland, devastated and infuriated students, teachers, and parents have been sharing their stories and calling for gun reform.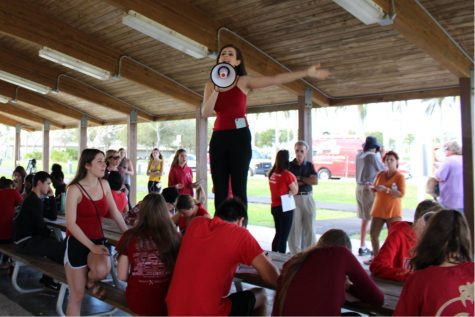 Now, students not only from Stoneman Douglas, but teens all over Florida and across the country are being very outspoken concerning their safe-being at schools. In Palm Beach County alone there has been an onslaught of protests and school walkouts. Olympic Heights had a protest in front of the school on Monday, and Tuesday saw hundreds of West Boca High students walk out and march to Stoneman Douglas. Wednesday was yet another eventful day, with well over 1000 students from multiple schools, including Olympic Heights, Boca High, West Boca High, and Omni Middle walking off their campuses and marching to Boca Raton City Hall to protest against school gun violence and the apparent lack of governmental response to it.
However, walkouts are not the only action students are taking to combat gun violence. Over 100 Stoneman Douglas survivors ventured to Tallahassee to rally for gun reform and talk to lawmakers. At Olympic Heights, a group of seniors have begun a movement called 535 Letters for Change. Carly Terkiel, Andrew Neppl, Mitchell Pinsky, Drew Pinsky, Brooke Hall, Julia Eisenberg, and Victoria Lichtenthal are the founders of this organization. Their aim is to see that every single member of Congress – all 435 Representatives and 100 Senators – receive letters calling for stricter gun laws.
Neppl says the overall mission is for students to be able to feel safe, as well as for parents to "feel like they are sending their child to a safe environment where they don't have to question if they will ever see them again when they drop them off in the morning or wave goodbye at the bus stop." 535 Letters for Change hopes to spread nationwide and instigate action in a controlled, professional, and organized manner.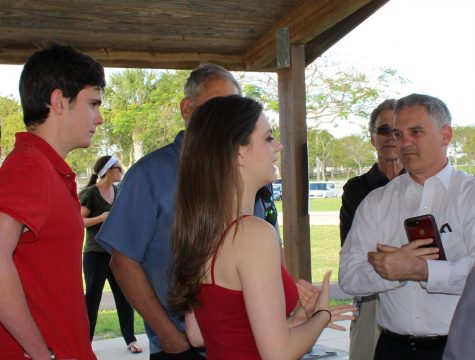 The group knows that they must be clear on what exact change they are demanding. Neppl states, "To call for change is one thing, but the lawmakers need to know what we specifically want: Increased law enforcement on campus throughout the entire school year, active shooter drills, an increase in the age requirement for purchasing an assault rifle, increased background checks and waiting periods, extensive training in the use of firearms before purchase, and a "no shoot" list in which individuals that have severe mental illness and psychotic tendencies cannot purchase a gun."
535 Letters for Change held its first event at the Sunset Cove Amphitheater in South County Regional Park after school on Monday afternoon, Feb. 19. Envelopes and printed letters that detailed students' concerns, gun law suggestions, and the need for improved school safety were provided. People who attended were then given two slips of paper with the addresses of two randomly selected Congressmen. Students signed their name on the letter along with the name of their school, and addressed the envelopes. Most of the participants were students from Olympic Heights, but many teachers and faculty members came as well and brought their families. There were concerned people of all age groups in attendance, ranging from grandparents to young children. Some attendees came from different schools as well.
Participants could sign as many letters as they wanted, or even opt to add a personal note or write their own letter. One student who chose to do this was OH sophomore Maleri Ginsberg. She explains, "I decided to write my own letter because it felt more personal than just signing a pre-written one. The entire tragedy of last week affected me a lot and writing something that reflected that made me feel like I was doing something good, and not just for the cause of doing something." When asked whether she thought the event was successful, Ginsberg replied, "I thought the event was very well thought out and very effective. Tons of people showed up, the media got word, and speakers came to talk. I think this is one of the best approaches to getting things done."
535 Letters for Change will be hosting its next event this Sunday, Feb. 25, in partnership with Drop in Action Sports Complex, located at Loggers' Run Park on West Palmetto Park Road. Starting at 1:00, they will be addressing and stuffing more envelopes and making posters to send to Marjory Stoneman Douglas. At 4:00, they are delivering the posters to the amphitheater at Pine Trails Park in Parkland.
Neppl emphasizes that the best way for students to bring about change is to continue voicing their opinions. "A productive way to do this is through consistently writing to local and national lawmakers, calling their offices, speaking your opinion in everyday life, and most importantly doing research on candidates and voting," he asserts.
Leave a Comment