Kanye West's recent antics and anti-Semitic remarks result in loss of business deals and fans questioning his sanity
Famous rapper and Yeezy owner Kanye West has once again thrust himself into the spotlight with his controversial antics and remarks. This time, however, it could prove costly as powerhouse corporations J.P. Morgan and Adidas are set to cut business ties with the seemingly unhinged rapper. 
West's recent anti-Semitic comments made both on social media and during interviews were a step too far for J.P. Morgan and Adidas. The rapper also made headlines at his Yeezy brand's fashion show last week when he joined far-right wing political commentator Candace Owens in wearing  "White Lives Matter" shirts. West's apparent teaming with Owens, a conspiracy touting, election-denier, is also troubling for the corporations.
West's anti-Semitic social media posts resulted in both Instagram and Twitter locking his access to their platforms. West responded by appearing on Fox News host Tucker Carlson's show, but segments of his interview where he made anti-Semitic and other conspiratorial remarks were edited out.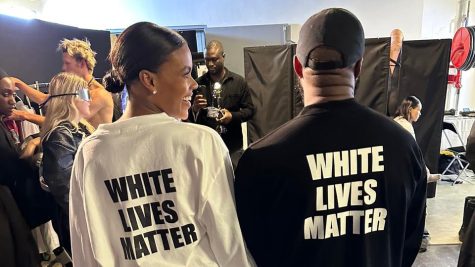 These controversies come on the heels of West recently facing backlash for his internet attacks on comedian and Saturday Night Live cast member Pete Davidson after West's ex-wife Kim Kardashian entered into a relationship with Davidson. West's recent antics now have many people, including fans, questioning the rapper's mental stability.
West's first glimpse of fame was in 1996 when he freestyle rapped outside of a New York storefront. The Atlanta native had been working on producing and rapping and was also studying English literature at Chicago State University. Only 19 at the time, videos of his lyrically-adept freestyle went viral. Less than two years later, he sold his first beat to a local rapper for $8,000. 
He continued selling more of his beats, becoming the producer of several popular songs. After turning 20, West dropped out of college to pursue music. Exactly two years after the sale of his first beat, he began working with famed artist Shawn Carter, better known as Jay-Z. West produced many popular songs for Carter's record label, Roc-A-Fella Records. 
Inspired by his past, West released his 2004 breakout album titled College Dropout, which won two Grammy awards. In 2005, West made a highly controversial statement about George W. Bush, saying that the then-president "doesn't care about black people" during a live Hurricane Katrina relief telethon. Regardless of this backlash, he sold 860k copies of his next studio album, Late Registration. 
In 2008, West released his third studio album titled 808s & Heartbreak. This album is recognized as the first mainstream project of his to dive into rather emotional topics. This paved the way for albums such as the self-titled Ye, which was released in 2018 and dove deeper into the topic of mental health. The cover art for Ye references West's bipolar disorder, stating "I hate being Bi-Polar, its awesome." 
Olympic Heights junior Ethan Castaneda explained that "Kanye's transparency is a huge part of his image." While many fans are sympathetic towards his openly fluctuating mental health, West is often publicly reprimanded for his controversial actions. 
One of his first notable incidents was in 2009 when artist Taylor Swift received the VMA's Best Female Video award. During Swift's acceptance speech, West took the microphone from her and exclaimed to millions of viewers that artist Beyoncé deserved the award instead. Shockingly, this did not stop him from securing a sneaker deal with Nike later that year. 
In the entertainment industry, it is often claimed that "all publicity is good publicity." Many believe that any form of attention, regardless of the circumstance, is beneficial in the long run. While this is certainly arguable, it has proved to be true throughout West's career.
Over the next decade, West released several famed studio albums. In fact, West won the Grammy Best Rap Album award for his album My Beautiful Dark Twisted Fantasy in 2010. This was only a year after the incident at the VMAs. 
In 2011, after years of successful mentorship, Jay-Z joined forces with West to release the legendary album Watch the Throne. After the release of two additional hit studio albums, West married reality TV star Kim Kardashian, a highly publicized relationship. The couple received mass amounts of media attention throughout their various business ventures and family drama.  
Life was seemingly great for this power couple until 2020. While the country was celebrating Independence Day, West announced that he would be running for President of the United States. At one of his initial campaign rallies, West went off the rails. He made several unnecessary and unorthodox statements in an emotional rant, and he had to later apologize to Kardashian. 
This caused the couple's relationship to falter, and over the next year, things got much worse. Kardashian filed for a divorce which was granted in March 2022. Kanye was very public about the situation, sharing his emotions and even referencing their custody situation. Meanwhile, Kardashian claimed she was continuing to "take the high road." 
Kardashian began a new relationship with comedian Davidson shortly after hosting a Saturday Night Live episode. This led West to send the now infamous series of hateful messages to Davidson. West received a 24-hour Instagram suspension on the grounds of hate speech violations. While one might think that this would be the end of the couple's romance-drama arc, it might be far from over. 
West has always had a seemingly insatiable need for the spotlight, but now his attention-seeking antics are costing him both fans and business deals. But it's doubtful that West will be going away anytime soon.
Leave a Comment