OH's Little Lions Learning Center Offers Unique Opportunity for Early Childhood Education Academy Students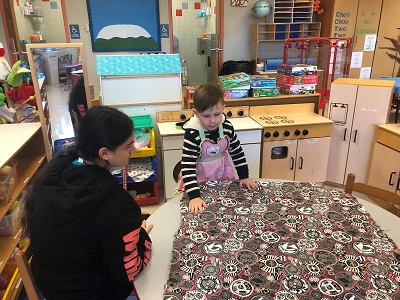 The Little Lions Learning Center is a preschool for three and four year olds on the Olympic Heights campus offering an education to not only those young children, but to high school students as well.
The OH Early Childhood Education Academy students spend a significant part of their course time in the Little Lions Learning Center helping out as teachers and making lessons for the small children. Having a place to gain a hands-on experience teaching the three and four year olds is highly beneficial for those OH students in the Early Childhood Education Academy.  It helps them to gain first-hand experience as to what a career in that field would be like.
Ms. Alexis Duffy is the Little Lions director and Early Childhood Education Academy instructor, teaching the four levels of early childhood the academy offers.  Ms. Mary is the teacher of the small children in Little Lions. With their help, both the students that attend Little Lions and the OH students will succeed to their full potential.
"At Little Lions, we help children become kind and independent as they get ready for kindergarten," says Duffy. "Children learn so much more through play and socialization. Come prepared to fall in love with the Little Lions Learning Center."
"This is my second year as part of the academy, and it is so interesting to learn about what goes on while a child is developing," comments sophomore Arianna Wigodner, a Early Childhood Education Academy level two student. "Not only do we just get to read about it in DCF [Florida Department of Children and Families], but we also get to observe it first hand by going into Little Lions once every two weeks. Having this opportunity helps me put my knowledge to work."
Jordan Denker, another level two student in the Early Childhood Education Academy says, "Not only has this academy taught me to be cautious and look out for special needs, abuse, and neglect, but also it taught me to give the kids the best environment possible in order to help them fully develop and thrive."
Throughout the four levels of early childhood the OH students learn more about what it takes to become a education provider for children. They can also apply what they learn when they go into the preschool, or even when they work with children outside of school in areas such as babysitting, volunteering, having younger siblings, or even have children of their own later in life.
Having a preschool accessible on campus is also very helpful for the community. Since the hours of the preschool coincide with the OH school day, Little Lions is extremely beneficial for those faculty members who have young children that meet the requirements to attend the preschool.
OH English teacher Mr. Michael Taylor's son Alexander attends Little Lions as did Taylor's daughter Eva. Taylor has nothing but praise for the Little Lions program. "I can't speak highly enough about the positive impact it has had on [my children's] development," Taylor comments.  "It is a great place to learn social and communication skills as well and also provides a solid foundation for further learning.
"The program also benefits the student teachers who learn valuable child care and development skills as part of their school curriculum," Taylor continues. "All in all, I am very happy with Little Lions and what it has done for my children and am very grateful to Mrs. Duffy and Miss Mary for all they do."
The Little Lions Learning Center also helps children become more equipped for kindergarten, and the students in the Early Childhood Education Academy can help get them there. Little Lions is a welcoming place where children ages three to four can both learn and have fun while doing it!