OH Class of 2021 looks back on fond high school memories
Some people think of their high school years as the best years of their life. The concept of high school has been overly-romanticized in literature and films. The truth is, everyone experiences both high and low points in those swift four years. On graduation day for the Olympic Heights Class of 2021, some graduates share the high school memories they will hold with them for years to come.
"I guess I would say my favorite memory was when the squid was in the vending machine," Brendan Ruh comments when looking back on the amusing prank the Class of 2021 played during its sophomore year.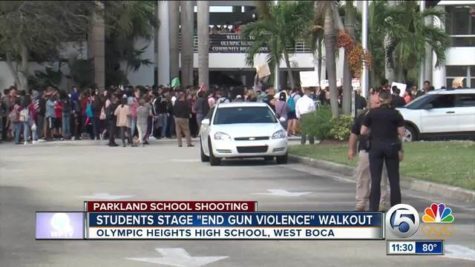 While that was a lighthearted prank, some other students have more wholesome events that have stuck with them. Senior Gabriel Fass will always remember the friends he made in the OH chorus, even remarking that some of them changed his life. "The amount of memories and great moments I made with those guys is unforgettable," Fass explains. The lifelong friends made in high school is a common theme that runs through many people's memories.
Many graduates recall the fun they had as school events such as Buddy Bash and Dance Marathon, which were both for a good cause. Of course, the pandemic restrictions put a damper on some of those events over the past year and a half of the graduating class's time at OH, but some still recall the music in the courtyard and cafeteria on Fridays.
Other graduating seniors recall the walkout during their freshman year after the Feb. 14, 2018, shooting at Marjory Stoneman Douglas High School in Parkland. The walkout, which was to honor the lives lost at the nearby high school and to advocate for gun control, was a lengthy trek to the Boca Raton City Hall. 
On a lighter note, graduating senior Ainsley McClure shares a distinct memory for her and a funny one at that. "Now that I think about it, there being a rat in the AP Human classroom was quite interesting," McClure recalls. From the raccoons outside to the rats inside, the creatures that roam the campus can be entertaining to many. 
All the seniors agree that their four years of high school flew by much more quickly than they anticipated it would when they were freshmen. They all advise this year's crop of freshman Lion cubs to enjoy and make the most of their next three years.
Leave a Comment